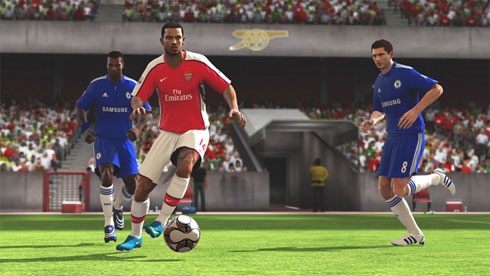 Are you a wizard on the digital football pitch? Do you have the steel reserve to pit your ball skills against other virtual footballers?  If you think you have what it takes to be numero uno, consider entering FIFA's Interactive World Cup.
EA Sports and FIFA are looking for the world's best – and you'll have the opportunity to prove yourself worthy at the FIFA Interactive World Cup Live Qualifier, to be held in Johannesburg.
Details after the jump.
Get yourself to Cresta Shopping Centre on 6 March where the qualifiers will be held from 9am until 7pm that evening Other than the fame that comes from being on of South Africa's best, what's in it for you?
Well, it's an international competition, and you could end up representing your country, competing for the title of FIFA Interactive World Champion 2010. If you're good enough you may net yourself one of the 32 all expense paid trips to the FIFA Interactive World Cup Grand Final in Barcelona, Spain on 1st May 2010.
Prove your worth there, and you could go home with an extra $20,000 and find yourself among the attendees at this year's FIFA World Player Gala.
Entry top the competition is free, so if you're a FIFA fan in Johannesburg you really have no excuse not to enter. Games at the qualifier will be played on Playstation 3.
Find out more, at FIFA Interactive World Cup, and register for the event at Do Gaming.
To summarise :
WHERE?

Cresta Shopping Centre, Cnr Beyers Naude Drive & Weltevreden Road, Cresta Extension 4, Randburg.
Telephone +2711 678 5306
www.crestashoppingcentre.co.za.

WHEN?

6 March 2010 from 09h00 – 19h00.

REGISTRATION

Players are only able to register online on http://gaming.do.co.za from 6 February 2010.
Last Updated: February 17, 2010