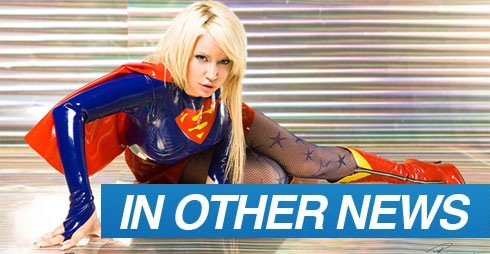 15 years ago today Christopher Reeve – the silver screen's Superman – proved he really was only human, becoming paralysed from the neck down in an unfortunate equestrian accident. If only Margot Kidder – Lois Lane in the Richard Donner films was hotter we'd be showing you a picture of the two of them together in tender embrace.
Instead, you get some random skank dressed as Supergirl. It's all quite shameless, really. Today is also Louis Gosset Jr's birthday – the Oscar winning, slick-ass mofo in Windhoek's awesome "keep it real" commercials. That's a good reason to crack open a Windhoek, I say!
Here's the news we didn't post because we're all too busy pretending Nick's a horse and jumping him over the fence.
Play
News
Arkhum Asylum 2 to Be Mark Hamill's last, brilliant turn as the Joker
Borderlands devs trademark "Z-Day." Another Zombie game in the works?
Duke Nukem : Manhattan Project headed to XBLA
Screenshots
Marvel vs Capcom 3 high Res Screens
Stuff
Xbox Boss has a friggin huge House
Videos
Kane & Lynch 2 : Cops and Robbers
Stop Motion NES homage
Last Updated: May 27, 2010