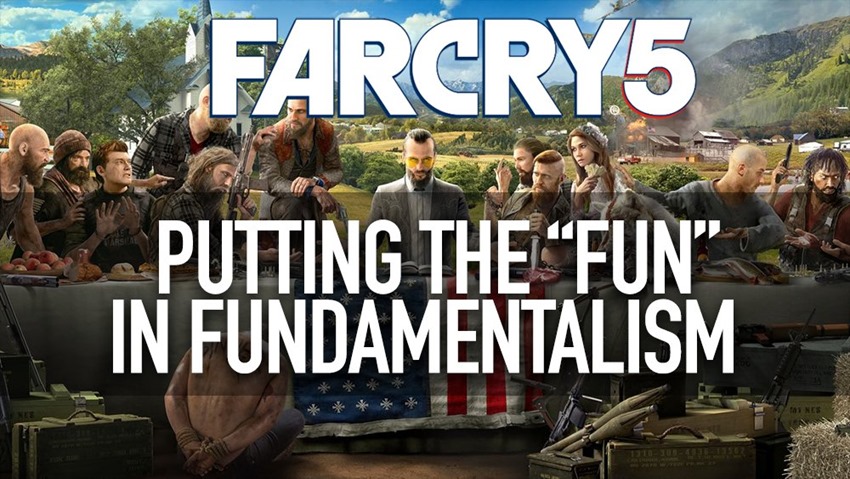 Dateline: December 2017.
The streets of Soho are caked in sleet, I've just gone 11 hours in an airplane which may have decided to transform itself into a vomit comet thanks to non-stop turbulence across the African skies and winter has indeed arrived. London was calling, and I was there to pick up the phone that day as I walked into a hall that looked like it had been decorated by the maddest of fundamentalists from the middle of the not-so-United States of America.
If this all sounds familiar, then it should: This was a trip to go hands-on with Far Cry 5, a few months ahead of release. You may have missed it of course, as the embargo for all this new content dropped in late December. Apparently, that's when people like to go on holiday, resulting in scores of Joburgers walking through coastal city shopping centers with nothing but a thin film of filth underneath their feet.
Fear not! Because I'm here to remind you of that Far Cry 5 content that I slaved away on while y'all were enjoying a much-needed break. First up, here's me chatting to Far Cry 5 narrative director Jean-Sebastien Decant, the nicest guy in any room, about putting the fun in fundamentalism. Here's a taste of the full interview and how this incarnation of Far Cry 5 features more characters to interact with:
We went quite bonkers with the cast of characters. Before we were up to ten, fifteen characters. Now it's more than fifty. So it's a lot of different vibes. Of course we take inspiration here and there, but what's really inspiring us are the actors that we met, or even some that are just in casting. That's where they really take shape. At first we have just an idea that's relative to gameplay. For instance we have Nick Rye, as we knew that we'd have a plane.
Speaking of taste, Far Cry 5 also happens to have a mission where you need to harvest bull testicles for the testy festy. If you had to describe the mission in one word, the most apt descriptor would be "nuts":
If you're looking for some gameplay that's strictly not tied into running a herd of bulls who sing in a soprano voice, here's some good ol'fashioned violence in the form of an outpost takedown and stealing the biggest of rigs back from that pesky flock of maniacs:
When it comes down to brass tacks, what kind of a game is Far Cry 5? A couple of hours in, there's one theme that I found that really resonated with me: Duality. Specifically, the idea that Far Cry 5 is an interactive journey into the best and worst that America has to offer the world:
Far Cry 5 will be out a little bit later this year, on March 27.
Last Updated: January 16, 2018