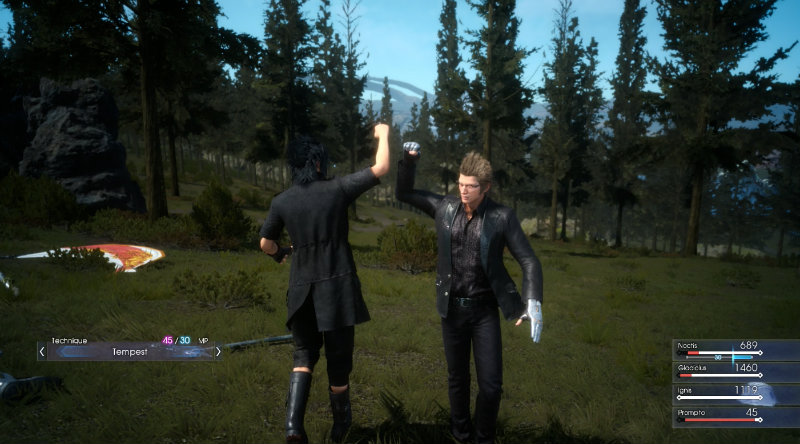 In case you haven't noticed, I am really excited for Final Fantasy XV. I'm loving the modern look of it, the new direction the franchise is moving in, and the story this time around seems fresh and interesting. In the latest Active Time Report (thanks for translations, DualShockers), FFXV director Hajime Tabata gave some new details that give me even more cause to be excited.
As expected, The Regalia (that sexy car) is faster than Chocobos. But unexpectedly, when you get the flying Regalia, you can actually crash it.
If you crash at landing it's game over, and you'll go back to before the flight. Unlike conventional airships, there's actual gameplay related to taking off and landing. Taking off is not particularly difficult, but you need to be careful on landing. It could be tense, but it won't be that hard.
As for the world, it's not an open world in that you can't go absolutely anywhere you like, but it is really vast and the variety of places you can go increases as you proceed with the story. But don't worry, you can get around relatively easily – it's now confirmed that you can fast travel to places where you've camped.
Other confirmations include that it's possible to save the game freely anywhere and that there will be a skill tree for learning abilities. But I'm also intrigued by announcements teased for E3.
About difficulty, your ability with action games isn't critical. Since it's a Final Fantasy RPG, the action is designed to be enjoyed by a wide variety of gamers and operation is pretty simple. It's also designed so that you learn how to control it little by little. There will be difficulty options, and a certain twist that we'll hear more about at E3.

[…] Tabata-san was asked about the impression that the graphics have been downgraded from Episode Duscae to Platinum Demo, and he said to please wait for E3.
I'm just happy that we'll be hearing more about Final Fantasy XV at E3. Could we see it during Sony's press conference, or only when Square Enix does their own stuff? And it's supposed to be playable at the expo – I'm curious if it will be an existing demo, or a slice of the game that we haven't seen so far. Either way, I'm curious to see what else they will reveal. Meanwhile, excuse me while I go practice my flight simulation to avoid any airship crashes.
Last Updated: June 1, 2016