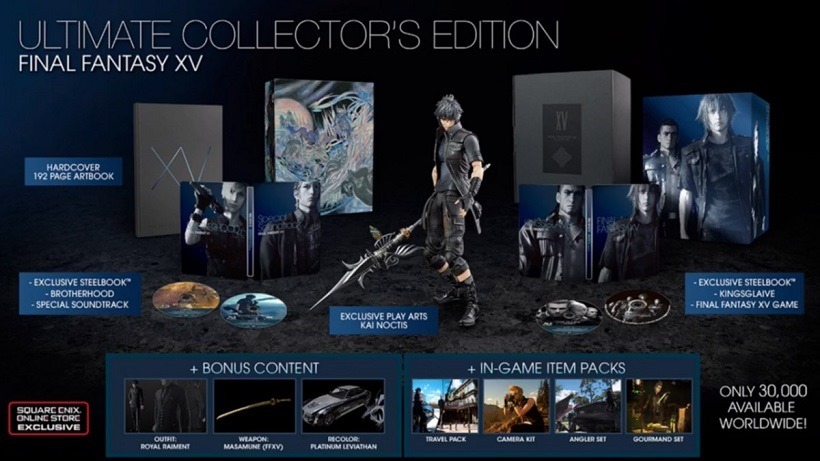 Final Fantasy XV is poised to be one of this year's biggest launches, with the most ambitious looking Final Fantasy title in recent memory races to shelves in September. Avid fans have scooped up the really limited Collectors Edition already – many of which unsurprisingly ended up on auction websites for grossly inflated prices. Square Enix are aware of what happened, and have promised that more Collector's Editions will be made to compensate. With a catch though.
Due to the unpredictability with production of the Collector's Edition, Square Enix isn't yet sure if the extra stock will be ready in time for the September 30th launch. The announcement of more production was made over Twitter yesterday, with the surplus stock hopefully appeasing those many thousands that missed out. Missing the launch date is just a possibility you'll have to risk if you're that interested in dipping into the extravagant package.
Good news! We will be producing more #FFXV Ultimate Collector's Editions which will be available worldwide!
[1/3] pic.twitter.com/CDfI8bHbPx

— Final Fantasy XV (@FFXVEN) 21 April 2016
Due to factors outside of our control though – there is a chance these new UCEs may not be ready by Sep 30 (the #FFXV release date)
[2/3] — Final Fantasy XV (@FFXVEN) 21 April 2016
We'll do our best to make sure the new UCEs are not delayed though & we'll let you know how you can order one from the 2nd batch soon
[3/3]

— Final Fantasy XV (@FFXVEN) 21 April 2016
The Collector's Edition did go on sale here briefly, and is certainly geared more towards the true Final Fantasy fan. The expensive bundle comes with a lot of extras, including the game's soundtrack, Blu-Ray version of the prequel film to Final Fantasy XV's tale and some in-game items. But most importantly it comes with a gorgeous Play Arts Kai figurine of Noctis – which retail for a pretty penny alone.
It's certainly a lovely edition that was soured with the blatant scalping that plagues all forms of pre-order culture, so it's goo to see Square Enix step up to the plate and keep the real fans in mind with more stock. And if these editions really are going to be delayed, it would be even nicer if digital codes were sent out to customers ahead of shipping so that they don't lose a day. Just a thought.
Final Fantasy XV is out on Xbox One and PS4 this September. A PC version might come one day.
Last Updated: April 22, 2016