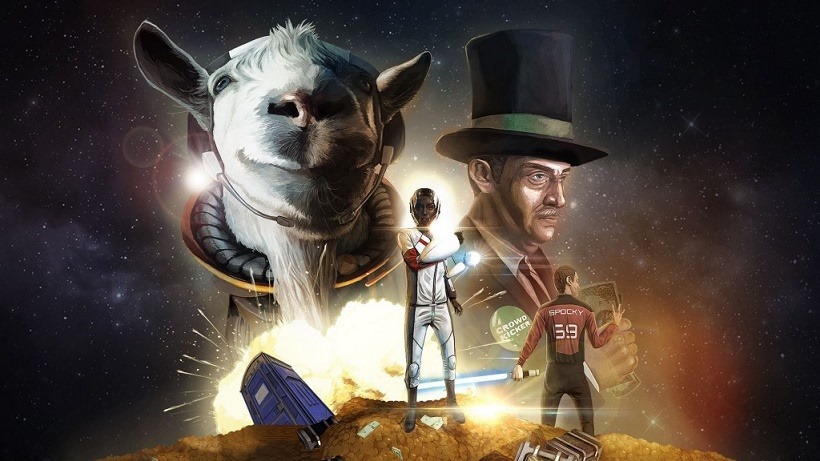 I'm always in two minds about Goat Simulator. On the one hand, I ask myself, "who the hell would enjoy this garbage?" Then on the other, whenever I watch any sort of gameplay, I'm like, "OH MY GOD HOW HAVE I NOT PLAYED THIS YET?" Seriously, the game looks absolutely ridiculous, but at the same time, it looks mindlessly fun.
I've held out on playing it for the longest of times, but I find that my resolve is crumbling fast, particularly after watching the trailer for the upcoming Waste of Space expansion (via VG247). Check it out…
Joining the space ships and lazer beams bandwagon, Goat Simulator will release a brand new expansion titled Waste of Space on the 26th of May. In Waste of Space, you get to beat or trick people into crowdfunding you their hard-earned money, and then spend it on your own dreams of being a space McGyver in space or whatever space nerds do instead of huffing paint in their underwear like normal people.
Visit space today or get old waiting for that other space game that you already paid for
Crowdfund a space colony and get other people to pay for it and do all the work!
Endless space full of planets to visit. but seriously it would take forever to go there so why bother
There is one planet nearby though. Go to that one
Fly and shoot stuff in space, because nobody makes games about flying and shooting in space anymore
Learn how to be a real bridge commander like that spock dude from mars or whatever
The biggest map in goat simulator history, filled to the brim with all kinds of crazy
No crew member will be left unromanced
Holy crap, how awesome does that look? I would definitely play that!
How many little pokes at other franchises did you notice? Off the top of my head, I saw jabs at Star Wars, Star Trek, Mass Effect, Alien, Kickstarter, Arnold Schwarzenegger, Destiny, and more.
Interested to find more? The Waste of Space expansion will be out later today if you're keen. No pricing is available just yet, but I assume it'll cost somewhere around the R55-R65 region based on previous DLC fees – don't hold me to that though.
Last Updated: May 26, 2016