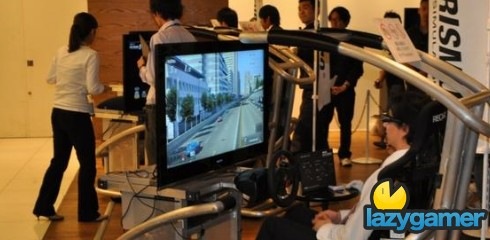 If anyone is in doubt about how important 3D is in Sony's plans for world domination then doubt no more. Over the past week in Tokyo Sony has transformed a coffee shop into the "3D dot cafe" where they  have been showing off their new line of 3D Bravia TV's.
However to ensure this event gets media coverage they have also slapped in there hugely anticipated Gran Turismo 5 for the general public to try out.
Unfortunately we don't live anywhere near Tokyo so until E3 arrives we can only report on other peoples experiences and Ryan Winterhalter from 1UP was there to report back on behalf of the Internet.
"Gran Turismo 5 didn't look markedly better or worse in 3D when compared to its showing at TGS last year. However, it suffered from the "pop-up book look" that many 3D images do–the game looked as if it was composed of several 2D images layered on top of each other. Movies that are filmed in 2D and brought to 3D via CGI tend to suffer from the same problem"
But on a more positive side (not that the previous statement was really negative)
"Though 3D images can be hard to watch for a long period of time, GT5 was relatively easy to look at"
In a few years time manufacturers will look back on Sony's assault on 3D technology with either envy that they missed the boat and Sony stole the show or as a case study on why chasing the bleeding edge can severely disrupt your market share.
I am 80% sure I don't want a 3D TV at the moment, let's see if I still think that after experiencing them at E3.
Source: 1UP
Last Updated: June 1, 2010