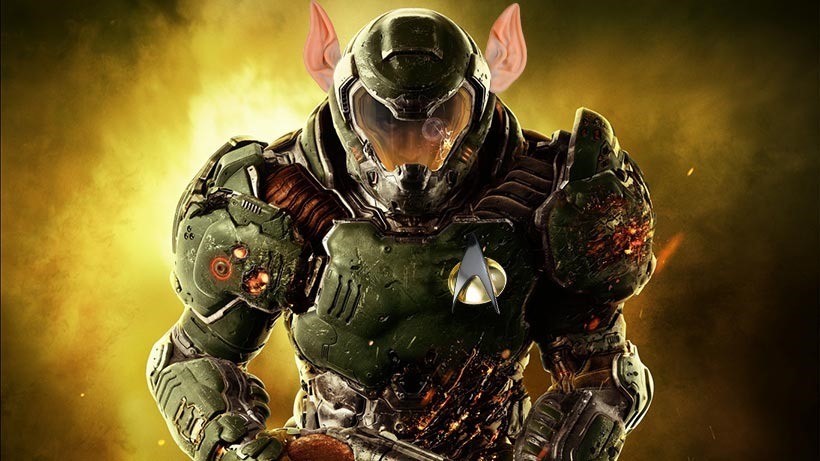 As much as I love my consoles, I tend to be jealous of PC gamers. Specifically, the rich ones who have enough cash lying around that they can use graphic cards from the previous generation as drink coasters. Look, PC gaming is expensive, costly stuff. But there's a certain visceral satisfaction that comes from mortgaging your home for the latest hardware to have the latest games running at the silkiest and smoothest of frames on the highest of resolutions.
That feeling of pride when you can move your mouse across the main menu and it doesn't perform like it has movement programmed by Christopher Walken's speech habits. DOOM is looking to be one of those games this year, that does just that. Like most gams available in the PC market, DOOM will be leveraging the hell out of Nvidia cards specifically. Last week, id Software showed the game off with a 200fps demo that was meant to be a showcase of the Vulkan graphics API. Here's the actual video then of that direct feed, which was uploaded a few short hours ago.
Provided that you're one of the tens of people around who have a monitor capable of refreshing at that rate, here's the actual raw file which clocks in at over 2 gigabytes for the download. The rest of you will have to make do with just plain ol' 60fps action that Google Chrome maxes out on with YouTube. Uuurgghhhh, my privilege hurts.
Nvidia says that the uncompressed footage was captured on "a GeForce GTX Titan X after the event, because id Software 'accidentally' left their GeForce GTX 1080 at the event when packing up."
If you're unfamiliar with Vulkan, it's a new graphics API renderer with a simpler, thinner driver, and efficient CPU multi-threading capabilities. Compared to DirectX or OpenGL, Vulkan has less latency and overhead, and can help your system reach new levels of performance. In simpler terms, Vulkan can help developers avoid CPU bottlenecks that limit performance, and can improve performance elsewhere, too.
It looks massively pretty as well, especially with that 120 degree field of vision option chosen for the action. Nvidia boasted that on a GeForce GTX 1080, a Vulkan-accelerated DOOM will "run even faster, and be capable of running smoothly at higher resolutions, delivering an even higher quality experience that will further enhance fidelity on your PC".
I'm no expert, but I kind of believe them. Remember, you'll need the following PC specs to run DOOM at recommended levels alone:
Windows 7/8.1/10 (64-bit versions)
Intel Core i7-3770/AMD FX-8350 or better;
8 GB RAM
55 GB free HDD space
NVIDIA GTX 970 4GB/AMD Radeon R9 290 4GB or better
Listen guys, quick question: Do you think my Pentium II 400MHZ PC with a Voodoo 3000 graphics accelerator card will be capable of running this at 620×480 resolution at least? I don't mind sacrificing a few resolutions for more frames. Asking for a friend. DOOM is out this Friday, on console as well.
Last Updated: May 12, 2016