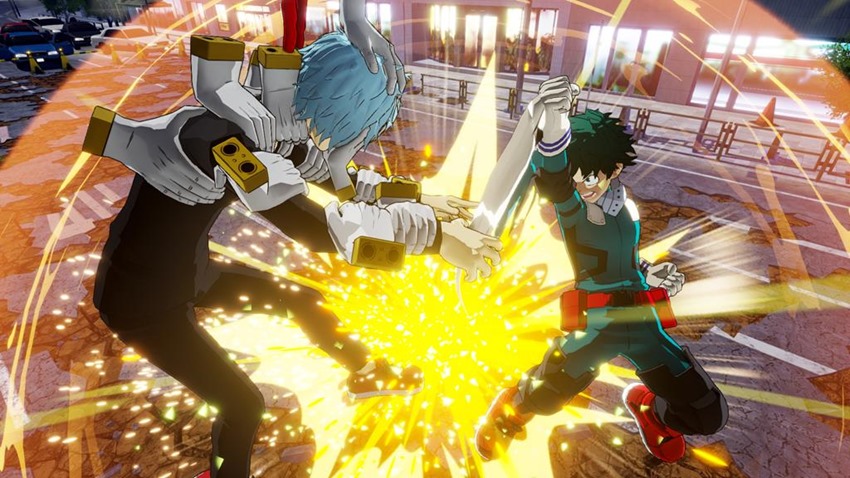 Every couple of years, there comes an anime series which earns the ravest of reviews. From Cowboy Bebop to Trigun, Code Geass to Gurren Lagann and the lunacy of Kill La Kill, it has been a good couple of years in the Japanese animation industry. So what's the Fortnite of anime currently? Easily My Hero Academia, a Japanese take on western superheroes that is fresh, fun and f**cking great stuff.
If you've missed out on it, the gist of My Hero Academia is that it's basically a combination of Superman with the heart of Steve Rogers set in a high school for the next generation of heroes who help protect a world where almost everyone has extra-normal abilities called quirks. Great stuff, that just keeps on getting better.
So of course it needs to have a video game adaptation stat (for the west, at least, seeing as how we never got Battle For All over here). That project has been in the works for a while now, albeit under the name of My Hero One's Justice. Bandai Namco's upcoming brawler finally has a release date of October 26 for Nintendo Switch, PS4, Xbox One, and PC . Here's a snazzy new trailer for it with some flavour text.
Heroes and Villains clash as the world hangs in the balance! Which side will you fight for?
So far the current roster includes the heavyweight characters of the manga and anime:
All Might
Dabi
Denki Kaminari
Eijiro Kirishima
Endeavor (Pre-Order Bonus)
Fumikage Tokoyami
Gran Torino
Himiko Toga
Izuku Midoriya
Katsuki Bakugo
Kyoka Jiro
Momo Yaoyorozu
Muscular
Ochaco Uraraka
Shota Aizawa
Shoto Todoroki
Stain
Tenya Iida
Tomura Shigaraki
Tsuyu Asui
I'm still waiting for my favourite character, the eternally-optimistic Mina Ashido, to make the cut but that's a great roster already. Every character has unique attacks related to their quirks, and I'm a sucker for the art style seen in the gameplay. It's also a ballsy release date for My Hero One's Justice, as the fighting game will be going up against its most dangerous adversary yet: Red Dead Redemption 2.
NEVER FEAR! WHY? FOR I AM HERE!
Last Updated: July 6, 2018