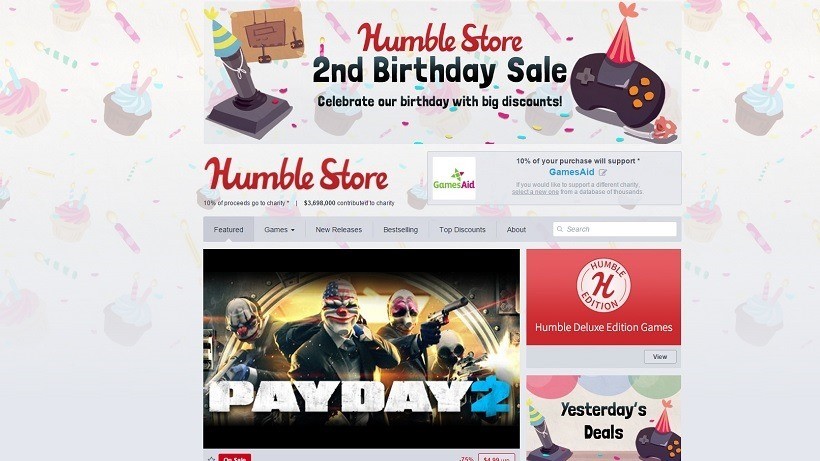 The Humble Bundles haven't exactly been enticing since they kicked off their monthly subscription model, but the Humble Store is still a great source for some killer deals on AAA and indie titles. Humble itself is turning two years old this week too, so they're inviting you to some massive daily sales to help you celebrate with them.
With the Rand/Dollar exchange rate being as abysmal as it is though, there's not as much on offer as you would expect. Still, today has some amazing deals that you should definitely consider if you don't already own them, as well as some still standing sale offers from yesterday's daily deals. here's my pick of the lot, which you can grab directly from the Humble Store:
Metro Redux Bundle – $7.49
Crypt of the Necrodancer – $7.49
Killing Floor 2 – $20.09
The Wolf Among US – $6.24
Dark Souls: Prepare to Die Edition – $4.99
Starbound – $10.04
Rogue Legacy – $2.24
Broforce – $8.99
Antichamber – $2.99
Shadowrun: Dragonfall – $2.99
Ronin – $6.49
That's just in case your backlog wasn't already looking incredibly scary thanks to the volume of great games that have released over the past few weeks. These deals won't last long though, so if you're missing a few I'd snag them up as fast as possible. Especially Broforce, The Wolf Among Us and Metro Redux – those are some damn fine gaming experiences if you haven't yet enjoyed them.
There's bound to be more tomorrow so don't forget to check back. what are you going to be adding to your growing backlog today?
Last Updated: November 18, 2015