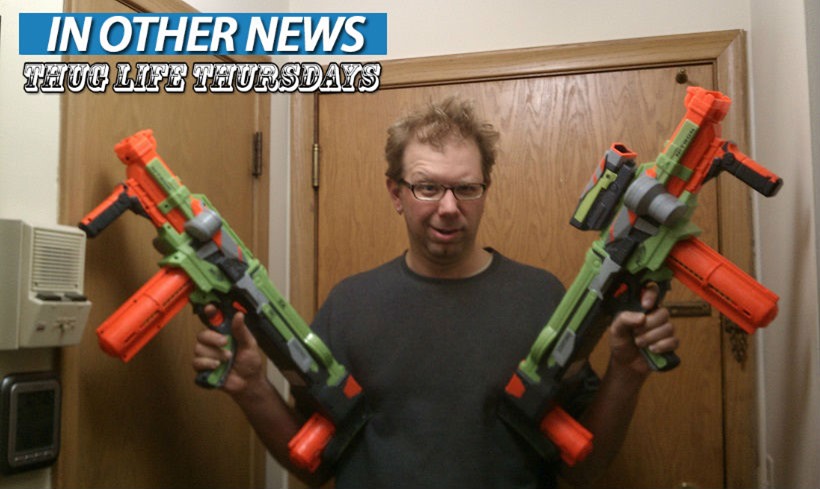 This week has been so stupidly busy. What day is it? WHAT YEAR IS IT? Somebody tell 2015 to slow down please – I still have so much to do before the year ends. Next thing you know, it'll be Christmas. What are you buying me this year, hmmmm?
In Other News: Online trolls scam LoL players, Garry's Mod is getting a sequel not called Garry's Mod 2, giant sushi floats down a river, and sloowwwwwwww mooooooo!
Here's all the news we didn't post because we were too busy driving our cars into large polystyrene balls on a nearby indoor field in preparation for the Rocket League Tournament.
News
Online Trolls Are Scamming League of Legends Players
Nintendo's cracking down on Speedrunning and ROM hacking videos
After seven years, Xbox Live Indie Games is closing down for good
A Garry's Mod sequel is in the works
Stuff
Giant Sushi Floats Through Osaka
The Super Mario Maker idea booklet is bizarre
What it's like running an arcade in 2015
Here's A Surefire Way To Beat Any Super Mario Maker Level
Lord of the Rings' The Shire looks beautiful in Minecraft
Videos
Dota 2 Fails of the Week – Ep. 138
Zelda: Ocarina of Time vs. Link to the Past – DeadLock (ft. NateWantstoBattle)
Match Head Bomb at 2500fps – The Slow Mo Guys
What's on @ The Movies?
UFC's Ronda Rousey to star in ROAD HOUSE remake
Everybody, hold onto each other! It's the trailer for KRAMPUS!
SA's Weekend Top 10 (4 to 6 September)
New THE LEFTOVERS Season 2 trailer wants to sell you a miracle
Jump and run to see this new trailer for ROOM
STAR WARS EPISODE VIII starts filming later this month
Model: I have no idea!
Last Updated: September 10, 2015