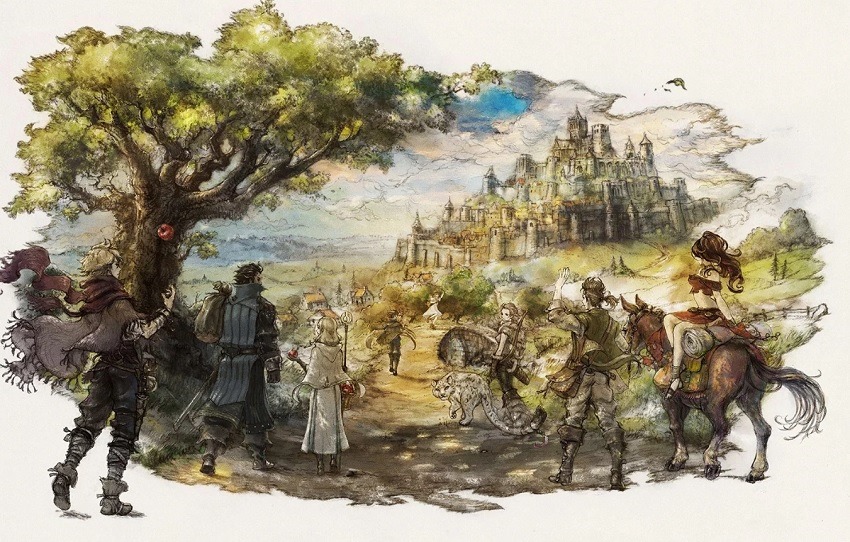 Octopath Traveler is a bit of an oddity when you look at it. It's quirky visuals are carved from a mighty 2D oak tree, it's story is told through this weird display of arranged symbols which form to create coherent words and it wears its 16bit JRPG influences proudly on its sleeve. It's also, according to a wide variety of people who have gone hands on with it, one of the best damn fantasy games of all time.
Here's what Umar had to say about it, once we dried him off after he'd spent possibly too many hours playing it:
Octopath Traveler manages to feel both nostalgic and modern at the same time. Its narrative is a wonderful compilation of eight character driven short stories while existing in a world seeped in rich and interesting lore. The combat is absolutely fantastic and is a blast throughout while the art style and music are some the best works Square Enix has ever done.

Structurally there are some issues as the way the game progresses can feel a bit repetitive after a while but it's honestly not enough to sully what is otherwise a master class of a JRPG. If you've got a Switch then this game is an absolute must-play.
Currently, Octopath Traveler is a Nintendo Switch exclusive, but come June 7 you can finally get your grubby keyboard and mouse mitts on it. Here's the press release describing the upcoming port, with a fun little trailer:
In Octopath Traveler, players will set forth on an epic adventure through the enchanting yet perilous continent of Orsterra, stretching across vast landscapes from lush forests, to desert outposts and snow-swept cathedrals. Featuring eight distinct characters each with their own tales to enjoy, ranging from journeys of self-discovery to quests for revenge, each traveler will start their journey in a different land so players can steer their own journey depending on whom they choose.

Octopath Traveler for PC brings to life the game's unique HD-2D visuals, blending striking 2D character designs with beautiful 3D world elements. Octopath Traveler will be available for PC (Steam) on June 7, 2019 with English and Japanese audio, and English, French, Italian, German, Spanish, Japanese, Traditional Chinese and Simplified Chinese text.
Other than that, it sounds like a straight-up port of the original game, which is quickly becoming a new franchise for publisher Square Enix as a prequel is already in development. Albeit it for mobile devices, and in the form of Octopath Traveler: Champion of the Continent.
Last Updated: April 16, 2019