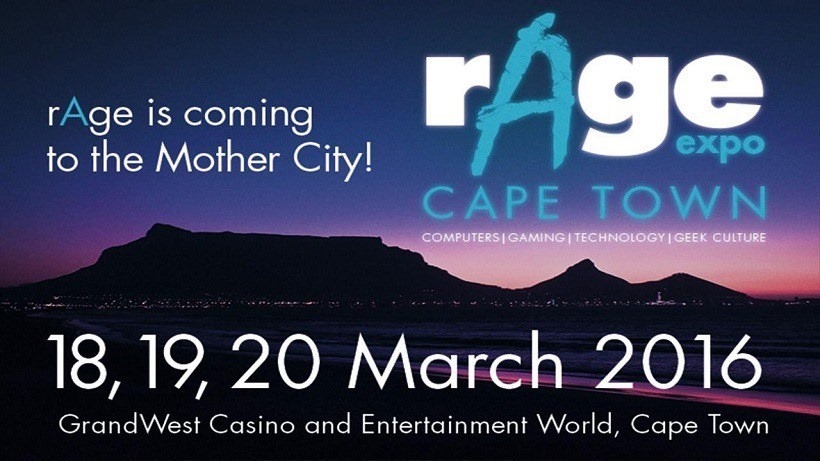 Later this months sees the inaugural Cape Town leg of the ludicrously popular rAge Expo kick off. Displacing the "gaming" with "geeky" in this incarnation, rAge Cape Town promises a more diverse look at games, geeky stuff, and their associated cultures.
Thanks to the lovely people organising rAge, we're offering you the chance to win your weekend pass for the gaming expo for absolutely nothing. All you need to do is fill out the form below with all the important information required, and we'll leave it up to the just and unbiased Random.org to figure out our ten winners when the competition closes on March 7th. Winners get a family pass, giving them tickets for four people (Two adults and two children) for the entire weekend.
There are, of course, a few Ts and Cs. Firstly, you'll have to be able to make it to rAge to claim your ticket. Winners will have to supply us with their ID numbers so that you can be identified at the door, and there are strict rules in place to prevent someone else picking it up for you. Secondly, if you don't currently live in Cape Town, it's up to you to find your way there (specifically to the GrandWest Casino and Entertainment World).
Other than that, there's really not much else to it. If rAge Cape Town is anything like its Johannesburg counterpart, out ten winners are in for a weekend filled to the brim with gaming goodness. And nothing quite tops something like that off like getting the entire experience free of charge.
rAge Cape Town takes place on March 18th – 20th. We're closing this competition today, with winners announced tomorrow. Get your entries in before it's too late.
Error: Contact form not found.
Last Updated: March 7, 2016