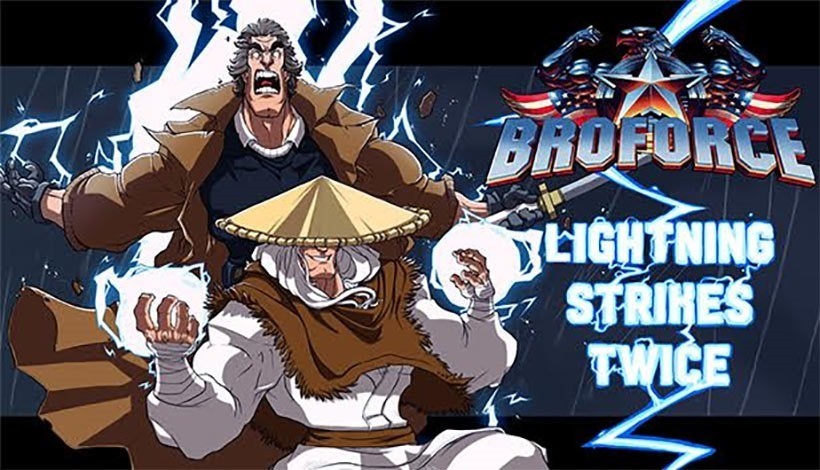 You'd imagine, now that it's out of early access, that Broforce developer Free Lives would ease up on content. The game already has just about every 80's and early 90's action hero imaginable, the game is out and has pretty damned well critically so there's really no need to add more to the game, right? Well no.
Yesterday saw the release of a brand new, free update to the pixelated homage to American action films and games like Metal Slug. Called Lightning Strikes Twice, the update adds two new bros – both linked to the wry smiles belonging to Christopher Lambert.
The first new bro is Broden; a lightning god very obviously inspired by Mortal Kombat's ™ Raiden. If you loved videogames in the 90s, you'll probably remember that Christopher Lambert played the oddly French-accented Raiden in the very first Mortal Kombat film. In Broforce, he can shoot lightning, and dash across the screen while creaming like somebody whose foot has been set alight; in short, very true to its source material.
The next bro is the Brolander; yes, Christopher Lambert's star turn as Connor MacLeod (of the clan MacLeod) and one of the worst recorded Scottish accents in history has been immortalised in Broforce. How is that related to lightning? Well, there's that quickening mumbo jumbo isn't there? There can be only one and all that; bzzzzt!
But that's not all! According to publisher Devolver Digital, there are also new features!
TACTICAL OPS!
Tactical missions far behind enemy lines… with a single bro. Players can test their Broforce knowledge in these missions and maybe learn a couple tricks in the process.
SUPPLY DROPS!
All bros now have access to new tactical items like All-American Supply Drops™, alien pheromones to distract xenomorphs, and performance enhancing drugs for that extra little boost when the odds are against them.
Broforce is out on PC right now (R159 on Steam) – and will be coming to a PlayStation 4 near you early next year. If you're not quite convinced yet, you can play the pared-down, free Expendabros tie-in before throwing your cash down.
Last Updated: November 24, 2015