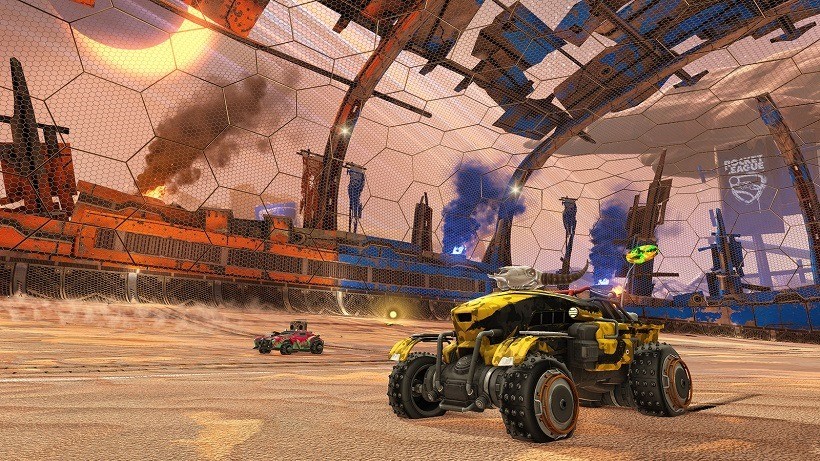 Months ago, I couldn't wrap my head around Rocket League. Why the hell was everybody so enamoured with it? I mean, it really is just football with cars at the end of the day! Then I got a copy of it for myself, and the hype all suddenly made sense.
I'll have you know that I'm not the biggest sports game fan, not by a long shot, yet I could very happily spend an evening playing Rocket League into the early hours of the morning. There's something very, very addictive about it. If you haven't played the game yet, do yourself a favour and take the leap.
For those who already have, good news! More content is coming to our favourite VROOM VROOM title. Here's a sneak peak of the Chaos Run DLC, which will be out sometime in December…
The Chaos Run DLC will cost $3.99, and includes the following:
2 New Battle-Cars, Ripper and Grog
12 New Decals (six for each new Battle-Car)
2 New Paint Types (Camo and Sun-Damaged)
2 New Wheels (Ripper and Grog)
2 New Rocket Trails (Sandstorm, Nuts and Bolts)
3 New Toppers (Boombox, Cow Skull, Mohawk)
3 New Antennas (Bomb Pole, Radioactive, Retro Ball – Wasteland)
5 New Trophies
What I really like about the developers, Psyonix, is that they only hide the cosmetic stuff behind a paywall. Those not interested in coughing up a few bucks can look forward to a brand new arena at no additional cost…
As always, our paid DLC will also ship with a free new arena called Wasteland! Based on a field of the same name from the original Supersonic Acrobatic Rocket-Powered Battle-Cars, Wasteland is the first "non-regulation" pitch to come to Rocket League.

How is Wasteland different? It's physically-wider than all other stadiums and has a completely-dissimilar Boost placement. The biggest difference, though, is that the ground itself is sloped around the entire perimeter of the arena, making for matches that feel much different than typical Rocket League contest
That's not all though. There will also be new music and additional garage items at no additional cost!
Now if you'll excuse me, I'm off to whip Gavin and Alessandro into shape. The Super Lazygamer Rocket League Championship is still happening believe it or not, and we have a rematch against TUBE happening tonight. We won't lose… not again!
Last Updated: November 19, 2015