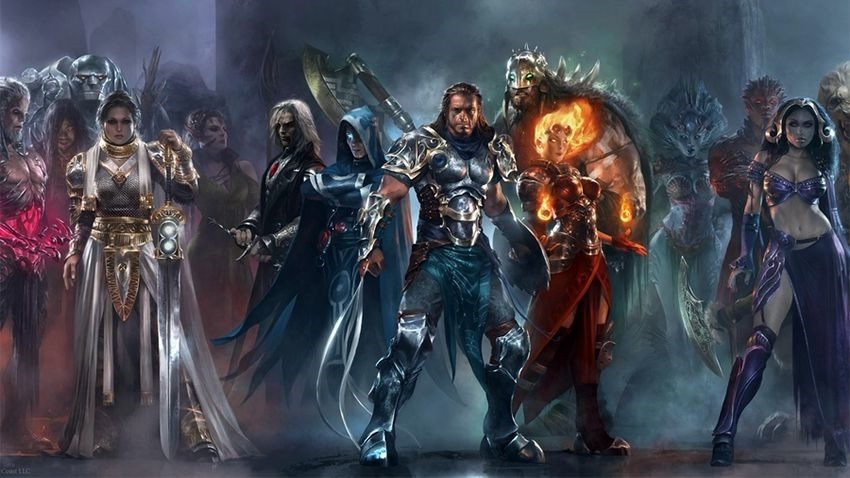 There have been many attempts to bring Magic: The Gathering, one of the world's most popular collectible card games to the digital Realm. Probably my favourite to date was the Sid Meier- designed Microprose one from the 90s, that had you battling five wizards across Shandalar using preconstructed or custom-created decks.
More recently, Duels of The Planeswalkers has successfully recreated the magic of playing…well, Magic. But there have been other attempts to turn the card battler into an RPG (and even one ill-advised attempt at an RTS). And now there's another.
Wizards of the Coast, Perfect World and Cryptic – all of the people behind the somewhat successful Neverwinter – have joined forces to create a AAA Magic The Gathering RPG.
"It's Magic: The Gathering like you've never experienced before," says Bryan Huang, CEO of Perfect World Entertainment. "We are ecstatic about the direction of the game Cryptic has been shaping. It's always been a dream of ours to bring Magic's Planeswalkers to a modern RPG."
It's going beyond the realm of the tabletop, something Wizards is excited about. Again.
"This game is an exciting part of Wizards of the Coast's Magic Digital Next initiative to extend gameplay beyond the tabletop, and we're proud to work with the talented team at Perfect World Entertainment and Cryptic Studios to bring the Magic: The Gathering Multiverse to life," said David Schwartz, Wizards of the Coast vice president of digital publishing.
The game is in development at Cryptic.
"Everything from the graphics to the gameplay is being targeted for a truly unique triple-A game," says Stephen D'Angelo, CEO of Cryptic Studios. "We're thrilled to provide Magic fans with an opportunity to explore the game's worlds and characters through an entirely new lens. Get ready to embark on a brand new journey."
And for a moment, I was excited. A big-budget RPG within the MtG universe sounds intriguing. And then I read a bit more on Cryptic's website. As with Neverwinter, it's going to be a free-to-play MMO.
"Cryptic Studios is developing a new free-to-play, action MMORPG based on Magic: The Gathering, the acclaimed strategic card game.
Experience stunning visuals and sound as we bring Magic to life in this next generation MMORPG. As a Planeswalker, you explore amazing worlds, combat powerful creatures, and meet the legendary beings that shape the fate of the multiverse."
And with that, my enthusiasm crumbled.
Last Updated: June 8, 2017