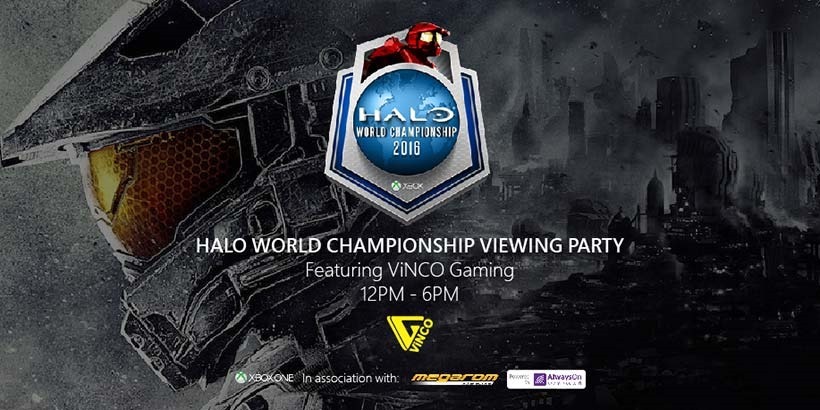 [Update] Microsoft has unfortunately cancelled the viewing party. No free pizza for you.
"We have had to cancel the Halo viewing party due to unforeseen circumstances. We will however be hosting a similar party in the coming months and will keep you updated on the new timing."
Original article as follows:
Because our eSports guy lives in a weird bubble, he's completely failed to tell you that we've got a local team competing in the Halo World Championships. The lovely lads from ViNCO Gaming are playing in the EMEA regional Halo finals in Cologne, Germany this weekend.
We will, of course, be cheering the chaps on from the comfort of our homes, because we're not all that fond of leaving them. But if, perchance you are okay with putting pants on and seeing other people (and you live in JHB), Microsoft is putting on a bit of a party to watch the team play.
This Saturday, you can head off to Microsoft's Johannesburg offices to watch our own Spartans battle for a spot in the world champs. Should they place in top two the EMEA regionals, they'll stand a chance of competing at the Halo 5 World Champs in March – and a stake in the prize pool which sits at around $2 000 000.
On top of being able to watch the lads from ViNCO play, you'll be able to play in a smaller halo tournament, eat on Microsoft's dime and win some prizes during the course of the day.
Says Microsoft:
In addition to the main viewing event, we will have the following activities happening throughout:

A Halo tournament
Pizza and cool drinks for lunch
Prizes and giveaways throughout the day
Here are the pertinent details, should you wish to head through:
Date: Saturday, February 6
Time: 12:00PM  – 18:00PM
Location: 3012 William Nicol Drive; Bryanston; Johannesburg
If you do plan on going, the polite thing to do would be to reply as such on this Facebook event. Do it!
Like esports?
Check out esports central
Last Updated: February 3, 2016