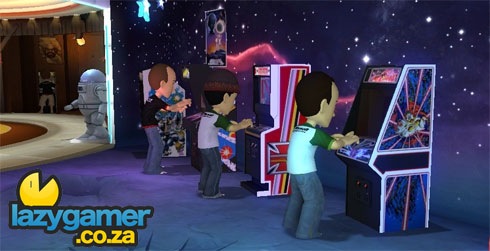 Microsoft's attempt to replicate Playstation Home the arcade experience just got a lot lamer. Microsoft have confirmed earlier rumours that they've slapped the service with a one-size-fits-all E10+ rating.
This has pros and cons – The biggest positive is that Microsoft can now add games to the service whenever they like, without having to get those games rerated by the ESRB. this leads to its biggest caveat – none of those games can be rated T or M – meaning your favourite even marginally violent games won;t be headed to the games room any time soon. So there'll be no Street Fighter, no Double Dragon, no Metal Slug and certainly no Mortal Kombat.
Of course all of those games are available as downloads on the Xbox Live Arcade service, making me wonder why this Games Room is coming in the first place.
Hit the jump for a list of the 30 games the service will launch with.
1. Centipede (arcade)
2. Asteroids Deluxe (arcade)
3. Tempest (arcade)
4. Crystal Castles (arcade)
5. Lunar Lander (arcade)
6. Jungler (arcade)
7. Road Fighter (arcade)
8. Scramble (arcade)
9. Finalizer (arcade)
10. Tutankham (arcade)
11. Shao-Lin's Road (arcade)
12. Super Cobra (arcade)
13. Red Baron (arcade)
14. Gravitar (arcade)
15. Battlantlis
16. Astrosmash (Intellivision)
17. Mountain Madness Super Pro Skiing (Intellivision)
18. Armor Battle (Intellivision)
19. Space Hawk (Intellivision)
20. Sub Hunt (Intellivision)
21. Sea Battle (Intellivision)
22. Space Armada (Intellivision)
23. Astrosmash (Intellivision)
24. Star Raiders (Atari 2600)
25. Outlaw (Atari 2600)
26. Yar's Revenge (Atari 2600)
27. Millipede (Atari 2600)
28. Football (Atari 2600)
29. RealSports Tennis (Atari 2600)
30. Combat (Atari 2600)
Where are Rainbow Islands and Bubble Bobble? Why no Pang (Buster Bros.)? Simpsons Arcade? No?
Source : VG247
Last Updated: February 3, 2010