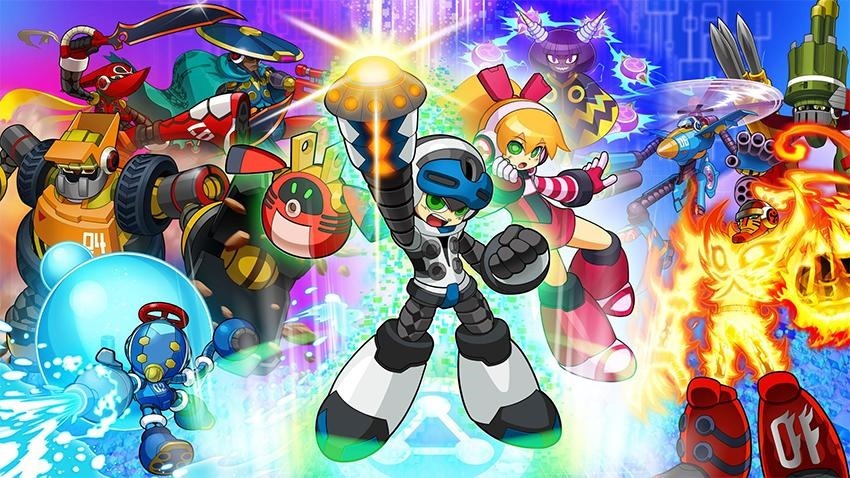 I have a relatively strict personal rule about Kickstarter: No matter how enticing, never back anything. One project I was very, very close to backing was Mighty No 9, the retro Mega-an-styled game from Keiji Inafune and Comcept. When it was first revealed in 2013, it showed the right things: great classic Mega-Man gameplay, fun enemy robots, and a killer soundtrack. It promised to fill the great blue bomber-filled hole in my heart.
I very nearly backed it. I'm glad I didn't, because it's been a shambles since. The game took what seemed to be forever to actually be released, and once it was finally out, proved a terrible, $3.84M disappointment. If Mighty No 9 was good at dishing out disappointment, it seems to be the gift that keeps on giving. Backers have finally received their physical rewards, and they're a little on the awful side.
Backers who pledged $60 or more could have chosen to receive a physical NES or Famicom-styled box for the game. With the game being a digital release, it wouldn't need a physical box, but collectors like this sort of thing.
"Mighty No. 9 doesn't technically NEED a physical box, but then you don't technically NEED to breathe, do you?" Mighty No 9's Kickstarter campaign page says. "Well yes, of course you do — just like you NEED this box!"
The physical rewards had an intended ship date of April 2015, but that obviously didn't happen. They're finally reaching backers now, two years later – and Mighty No 9 is disappointing backers for a second time.
The boxes are the right proportions, matching original NES and Famicom boxes perfectly. What doesn't match – at least in the case of the Famicom ones – is the manual, which doesn't even fit inside the game box. The box also arrived as flat sheets, with a little assembly required. And naturally, backers are disappointed.
oh it's literally just a box and manual. no game hahahaha. and the manual doesnt fit in the box pic.twitter.com/XKYXsLwLZG

— w i nt e rc u t e (@Isfet) July 25, 2017
I finally got my Japanese manual and box from the #mightyno9 kickstarter and the manual DOES NOT FIT IN THE BOX! One last knife to twist pic.twitter.com/WFCWH7np7k

— Tom Lynch (@tlynch117) July 25, 2017
I know these are going straight into the garbage can. #mightyno9 #EpicFail pic.twitter.com/bJ3UKtCwRg

— Travis .Hack// 15th (@Dungeon00X) July 26, 2017
What a joke.
Last Updated: July 27, 2017