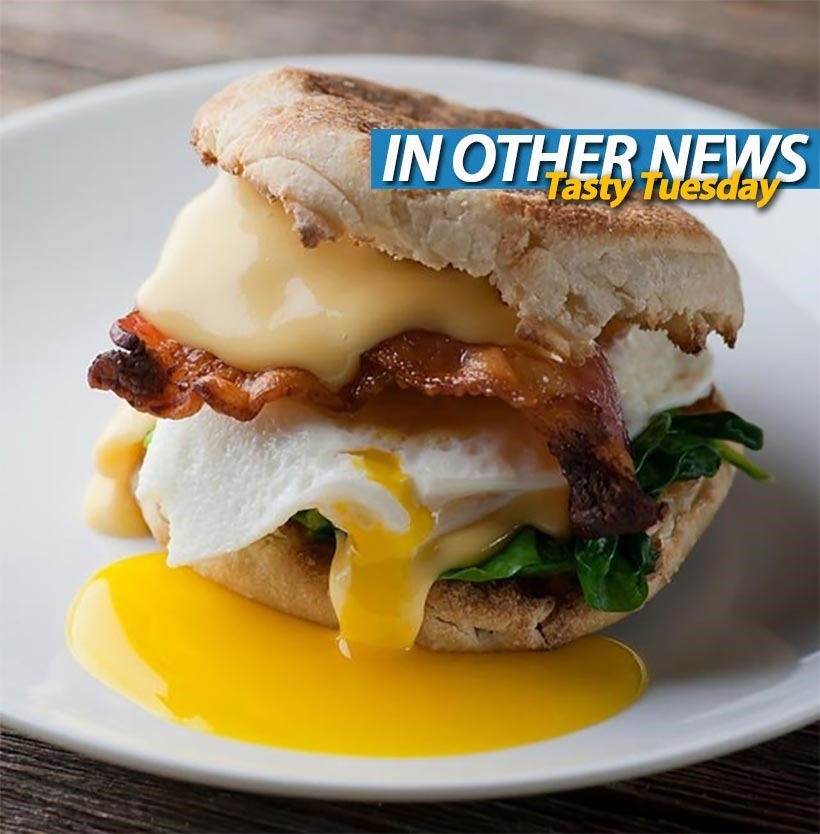 I love English breakfast muffins – they're the base for one of my very favourite things in the world, Eggs Benedict. Toasted English muffins, topped with ham or bacon, poached eggs and a liberal coating of one of the French mother sauces, Hollandaise, and you've got sex, right in your mouth. There's just something magical about the harmony of a lemon infused, butter and egg yolk emulsion drizzled over softly poached eggs that's downright exciting, and a mighty fine start to the day.
Sometimes though, you want something a little less refined. Something that's less dainty, and more the sort of thing you just grab and stuff in to your gob. Essentially the same, but with a fried egg and bacon instead of a poached one and ham. Replace the hollandaise with melted cheese and HO GOD CAN I JUST EAT IT ALREADY?
In Other news: You beta get ready for more of The Division, Kojima pals up with Reedus, Destiny gets "not really LEGO" deal, and play as a Titan.
Here's the news we didn't post because we were too busy enrolling in Darryn's Street Fighter Academy.
News
You can start pre-loading The Division beta right now
XCOM 2 post-mission loading can be skipped, but not without risk
Destiny weekly reset for February 16 – Court of Oryx, Nightfall, Prison of Elders changes detailed
Kojima meets Norman Reedus for 'update'
Mega Bloks grabs Destiny license too
Nitroplus Blasterz strikes Europe on April 7
Rodeo Games disbands after poor sales of Warhammer 40,000: Deathwatch
Koei Tecmo's Attack on Titan lets you play as a Titan
Stuff
Optical data storage squeezes 360TB on to a quartz disc—forever
Torment is unusual – and it will make unusual demands of you
Rare Gundam model brought back from the dead
My spoilery Firewatch theory
Videos
What's on at The Movies
DEATH HOUSE to be THE EXPENDABLES of the horror genre
Sony looking at a SALT TV series
The long night is coming in this first teaser trailer for GAME OF THRONES season 6
DVD REVIEW: PREMATURE
Todd McFarlane has a new SPAWN script, and he wants to direct it
The first teaser for STAR WARS: EPISODE VIII is here!
This trailer for THE NIGHT MANAGER isn't a spectator sport
Stallone keen to retire the character of ROCKY from the cinema
Last Updated: February 16, 2016