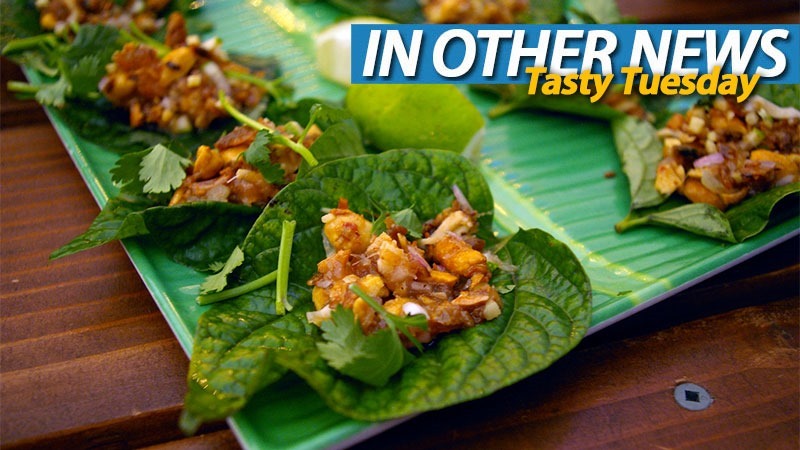 I've been on a big Thai food kick lately (yes, more Asian food!) and I've been sampling the culinary delights of the South Asian tourist trap for a while now, eating at whichever Thai joints I come across. There's just something about the quintessential (and perhaps clichéd) Thai ingredients that make me salivate; the chilli, the garlic, ginger, lime, lemongrass, coconut milk and of course, the Fish sauce – and the balance of it all that elevates simple but disparate ingredients through complex interplay that's magical.
"Thai food ain't about simplicity," says chef David Thompson. "It's about the juggling of disparate elements to create a harmonious finish. Like a complex musical chord it's got to have a smooth surface but it doesn't matter what's happening underneath. Simplicity isn't the dictum here, at all. Some westerners think it's a jumble of flavours, but to a Thai that's important, it's the complexity they delight in."
Pictured here is Miang Kham, a Thai snack that's often sold on by street vendors. Literally translating to ""eating many things in one bite", it's a collection of fresh ingredients; usually chilli, garlic, onion, shrimp, coconut shavings, lime and crushed peanuts, wrapped up in a leaf of some sort. It's finished with a sauce sugar (palm or cane!) syrup lemongrass, galangal, ginger and fish sauce. A wonderful collection of flavours that just zing. Spicy, fresh, aromatic. Heavenly.
In Other News: Final Stand for free, See some Rainbow Six Seals, People are petitioning to remove a review, Fallout 4 goes green and Overwatch is coming early to Americans. 
Here's the news we didn't post because we were too busy stacking up our Xbox Live accounts.
News
Battlefield 4 Final Stand DLC free on Xbox Live
Terraria getting patch 1.3.1 for its fifth birthday
Sony E3 2016 conference dated, prepare the PS4 hype-o-tron
Rainbow Six Siege's new Navy SEALs operators explained in new video
Recovered Snow White NES game is actually pretty hardcore
There's a petition to remove Washington Post's Uncharted 4 score from Metacritic
Gorgeous Fallout 4 mod cocktail lets nature overrun the wasteland
Overwatch releasing a day early at US stores
Stuff
Homefront: The Revolution – here's where to find the TimeSplitters 2 Easter egg
Exploring a tiny galaxy filled with jerks in Stellaris
Nine ways the the 8-bit era made gaming what it is today
Videos
What's on at The Movies
Greg Berlanti, Zack Stentz confirmed to be working on a BOOSTER GOLD movie
It's not painless in the first trailer for the live-action/animated hybrid TV series SON OF ZORN
Ryan Phillippe is the deadliest sniper ever known in this trailer for SHOOTER
It's an infinite loop of insanity in this new trailer for MR. ROBOT season 2.0
First look at FOX's new Rocky Horror Picture Show
Last Updated: May 17, 2016