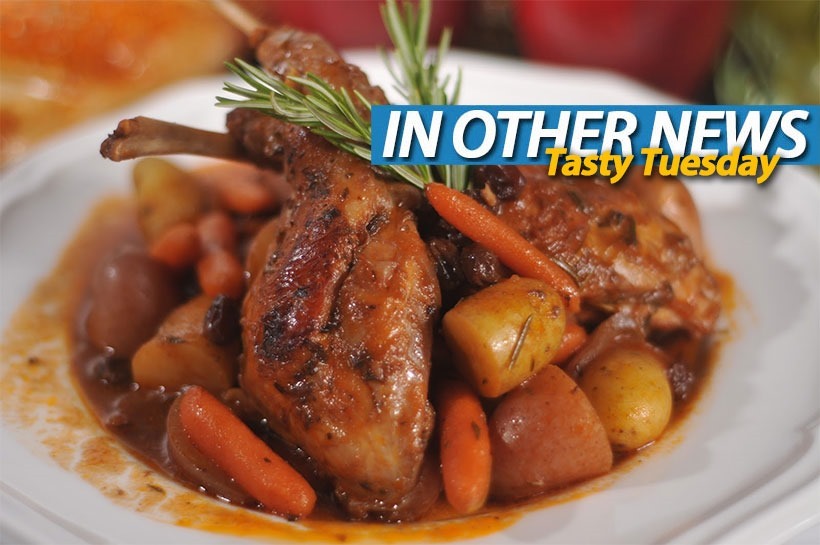 It's Easter this week! It's a day of great religious significance that doesn't, as the heathens among you might think, have anything to do with a chocolate zombie rabbit hatching from an egg after incubating for just three days. For many of us, it mostly means getting some time off, and stuffing our faces with chocolate. The easy food of choice for Tasty Tuesday, of course, would be chocolate, but instead, we've got coniglio alla cacciatora.
It's a simple hunter's stew, using simple ingredients from the earth, served with some delicious rabbit. Why rabbit? Well, mostly because I'm the sort of asshole who thinks it's funny to cook rabbit for dinner and tell the kids it's the easter bunny. Also, rabbit is delicious.
In Other News: Nuketown's price gets nuked, punch club gets pirated, Splatoon gets more merch and Mario gets unmade.
Here's the news we didn't post because we were too busy hunting wabbits.
News
Popular speedrunner has Mario Maker levels wiped by Nintendo
Splatoon has an official lint roller, ya filthy animals
Big job losses at Scribblenauts studio 5th Cell
Black Ops III's Nuketown goes free on PC, PS4, Xbox One
Stardew Valley update aims to improve the quality of marriage
Quantum Break dev responds to fan uproar over 720p resolution
Punch Club has sold 330,000 units, but it's been pirated 1.6 million times
Xbox Spring Sale: Battlefield, Halo, Forza, Call of Duty, more on sale for up to 60%
Stuff
The making of Alien: Isolation
Black Desert Online's combat feels like a revolution for MMOs
The past, present and future of Stardew Valley
Velazquez and the strange potential of VR
Videos
What's on at The Movies
Tuesday Box Office Report: Allegiant gets trampled by some Zoo animals
Michael Mann to make a prequel for HEAT – as a book
Raise your Swiss Army knives in salute to your new MACGYVER!
Bryan Cranston is running for his life as Lyndon B. Johnson in this first trailer for ALL THE WAY
The first fan reactions for BATMAN V SUPERMAN are online!
And the winners of our BATMAN V SUPERMAN competition are…
Last Updated: March 22, 2016