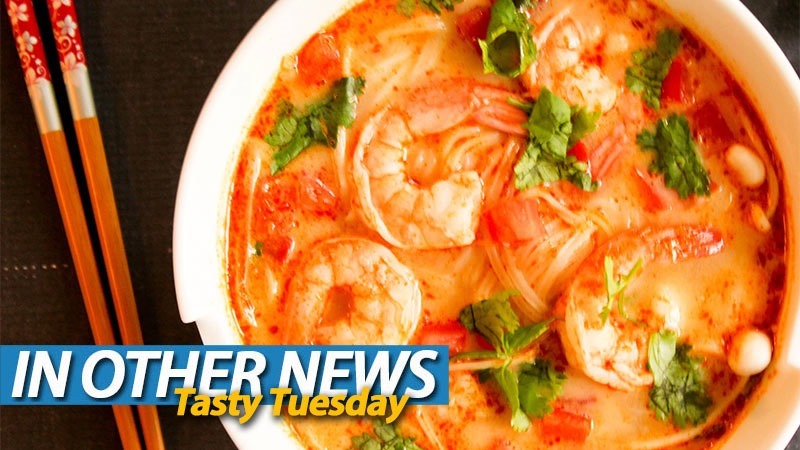 I don't like spicy food. I love spicy food – so I naturally love cuisines where spiciness is an inherent, even defining characteristic. Indian food? Hell yes. Mexican? Can't stuff my face with enough of it. It seems counter-intuitive, but hot food, on a hot day has a cooling effect – and there's nothing that works quite as well as Thailand's Tom Yum – in this case, a Tom yum goong. A delicious and spicy stock, emboldened by lemongrass, lime leaves, galangal, lime juice, fish sauce, and crushed chili peppers and prawns. Pure heaven.
In Other News – The Division gets a new update, more Batman stories, more Dragon Quest and the Nintendo Switch Lopsided puppy brought to life.
Here's the news we didn't post because we couldn't find the login credentials to lazzygamer.
News
The Division 1.4 update now available to download, clocks in at just over 5GB
Blizzard won't talk WoW legacy servers at Blizzcon, despite Nostalrius campaigns
Batman – Telltale Series Episode 3: New World Order trailer has Dent turning into Two-Face
Overwatch director says "troll pick" heroes are sometimes inevitable
Square Enix promises to bring more Dragon Quest titles to the West
Gameforge quits mobile development and lays off around 90 staff
Titanfall 2's day-one patch is a mere 88MB
Titanfall 2 will have PS4 Pro support on the disk
Stuff
The Division's rocky road
Watch Dogs 2 parodies Trump, Martin Shkreli, Kinect
The Nintendo Switch dog brought to life
Be advised: Titanfall 2's multiplayer runs much deeper than the original
Videos
What's on at The Movies
Dwayne 'The Rock' Johnson and Will Ferrell are teaming up for a wrestling comedy show
KRAMPUS and TRICK 'R TREAT's Michael Dougherty in talks to direct GODZILLA 2
This final trailer for ARRIVAL is more complicated than you think
Aaron Eckhart is a different type of exorcist in INCARNATE
Last Updated: October 25, 2016