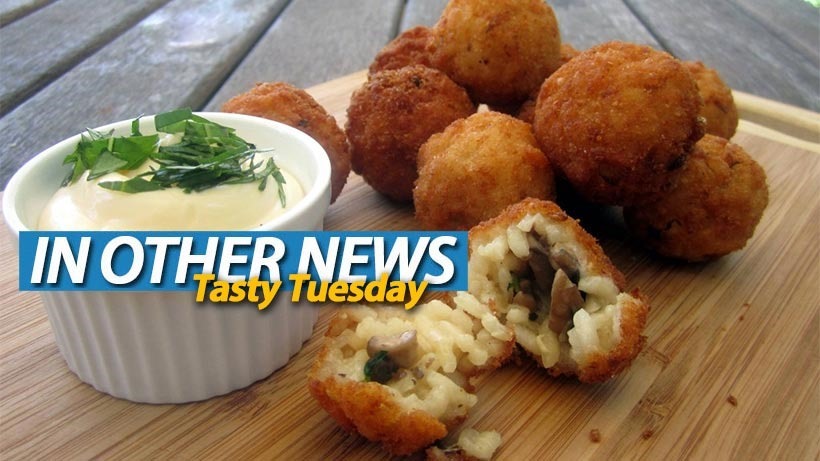 I love a good risotto as much as the next guy. There's something magical about a well-made Risotto; the creaminess of it all, combined with the al dente bite of the just-cooked rice? It's magical. But there's something even better than risotto – and that's left-over risotto. Why? Because it inevitable ends up being turned in to arancini.
Risotto doesn't keep too well – if you don't eat it as it's ready, it's wasted. Thankfully, you can take the leftovers, roll them in to balls and stuff a filling (I opt for cheese 99% of the time) in them, crumb them and deep fry them, giving you a crispy shell, bursting with flavour and often oozing with gooey cheesy goodness. Oh my.
In Other News: More places to be a caveman jerk on Xbox One, It's getting Hoth in here, get more of Her Story and some nonsense about eSports.
Here's the news we didn't post because we were too busy not being like Bill at all. Bill can suck a lemon.
News
EA is teasing something Hoth-related for Star Wars Battlefront
No DLC for Rare Replay
ARK: Survival Evolved gets more servers on Xbox One
Pokemon is getting its first ever Super Bowl ad
One Piece: Burning Blood EU Release Date Confirmed
Fallout 4 mod adds Traits and new Perks
Another Her Story is in the works, but it's not a sequel
Esports market predicted to grow to $463 million in 2016
Stuff
That time Ubisoft made a spanking game for the Wii
Dragon's Dogma on PC is a HD remaster in all but name
StarCraft: Brood War remains great in 2016
It's time for Destiny to show its hand
Videos
Uppers – Debut trailer
Umbrella Corps – Horde trailer
Valkyria Chronicles Remastered – Prepare for war trailer
What's on at The Movies
STRAIGHT OUTTA COMPTON's Corey Hawkins cast as lead in 24: LEGACY
DVD Review: BLACK SEA
Once you start you can't stop in this trailer for Vince Vaughn's TERM LIFE
We review DIRTY GRANDPA – I felt dirty after watching this
New TV spot for WARCRAFT movie released
THE EXORCIST series pilot ordered by FOX
Last Updated: January 26, 2016