Over the past year we've looked to Newzoo for any relevant information in regards the wealth of data available in eSports. From audience numbers, to organizations, and more importantly the revenue growth of eSports. Their initial projections for 2016 looked great with eSports sitting at a pretty $463 million revenue prediction. Yesterday, Newzoo released new data upping that to $493 million, a 7% increase in revenue.
This week, Newzoo Esports released the latest quarterly update of its Global Esports Market Report to its subscribers. The report shows that esports revenues for 2016 will grow toward $493 million in 2016, up 7% from the $463 million projected at the start of the year. This puts the year-on-year growth at +51.7%.
The most interesting revelation from the report talks about why eSports has grown by this much in just under a year. If we take a look back on 2016 this far, we'd see a major investment coming from not only developers alone, but many outside influences such as big brands and even sporting stars. There was also the massive investment from media companies such as Turner with the introduction of the ELEAGUE, as well as other major media companies such as ESPN and Yahoo. What this does not account for is the gambling on eSports, which did take a major hit with the pending lawsuits and a total shut down of the cosmetic gambling industry.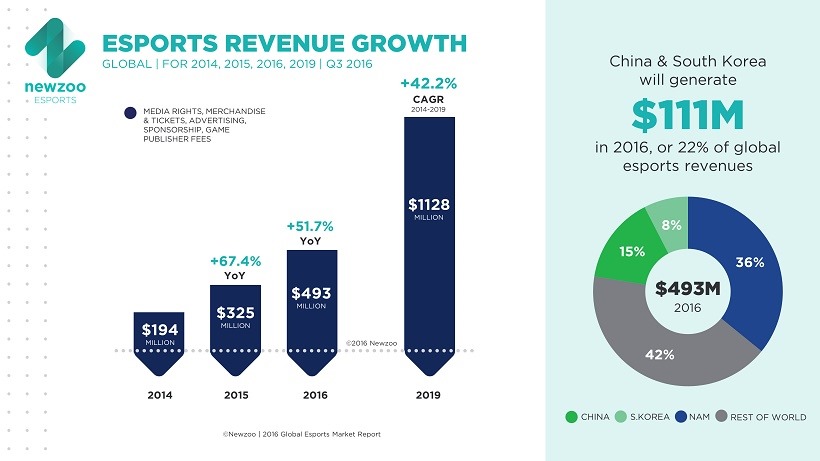 Publisher investment
Major publishers such as Valve, Riot, Blizzard, etc. pour millions of dollars into their respective eSports each year. In 2016 this investment from publishers sky rocketed with growing interest from wider demographics. With the involvement of the media, these grew between the May report, and now.
More and more publishers are embracing esports strategically as a way to increase the longevity of their games through increased player engagement, and to boost franchise awareness among a broad audience through live competitions and tournaments. For the latter reason, many publishers have looked to third-party (or white-label) organizers to help them set up tournaments around their new franchises.
Publisher investment isn't a key factor in the latest report, but their growing influence and strategies do aid the third party investments.
The Real Growth
Since publisher investment is not a key factor in the latest Newzoo report, where did the 7% jump come from? The answer is sponsorship, media, and advertising. Media rights were given to a number of major companies in 2016, with the largest being the Turner company. The same applies to the involvement of major sponsorships from brands not usually involved in eSports which opened up a whole new audience. Companies such as Pepsi Co. and Coca-Cola have had a major influence on eSports over the past year, and outside involvement is always great for investment opportunities.
Revenues from brands are the key component of the esports economy and will define the pace of growth going forward. The revenues generated by brands this year, consisting of advertising, sponsorship, and media rights, is expected to total $350 million. This represents 71% of the esports economy, with the other 29% generated by consumers through merchandise and ticket sales, as well as publisher fees spent on organizers and other service providers.
The prediction for 2019 still remains at $1.1 billion, but as we approach with the annual year-on-year growth at +51.7%, it's safe to assume that this number will be upped as well.
Last Updated: September 1, 2016