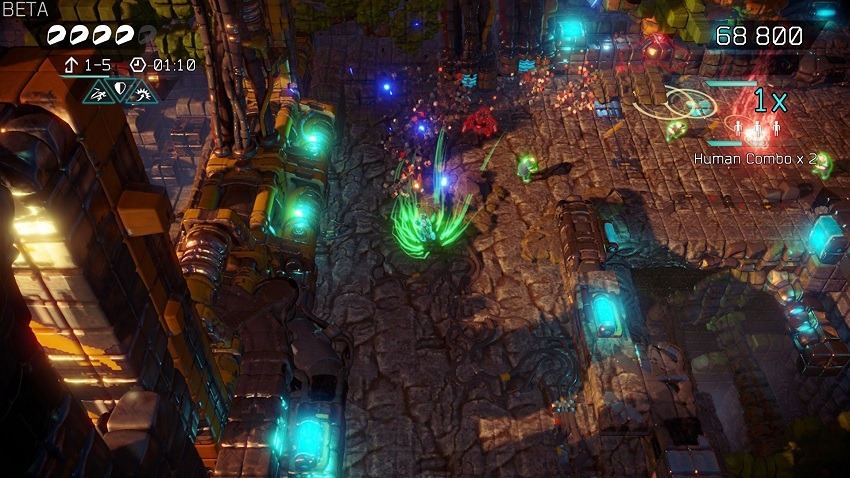 Nex Machina, the next game from Housemarque, is a neon-fuelled, bullet hell fever dream. But it's one with a release date now. The twin-stick shooter from the house that brought you Alienation, Resogun and Dead Nation is aiming to launch their latest foray into the genre in just over a month's time. Nex Machina is launching on June 20th for PS4 and PC, and includes an almost essential feature.
The new trailer for the stylistic shooter confirms that the game will launch with local co-operative play, which is essentially the best way to play any of Housemarque's titles. Alienation, the last game the studio put out, initially launched without the feature, barring co-operative play to online connections only. The otherwise fantastic title was made infinitely better when local co-op was patched in, so it's good to see it from the get go now.
Speaking of Alienation, PS4 owners can still scoop up the Housemarque title for free this month with PlayStation Plus, in case your top-down shooter cravings haven't been sated in some time. Nex Machina is a bit of a different best, looking more along the lines of a mash-up between Alienation and Resogun. It's still top-down twin-stick shooting, but with all the neon filled explosions and particle effects of the later. All of which will support higher resolutions on PC when it launches via Steam.
Housemarque are also working on a second title called Matterfall, which they'll hopefully speak more about very soon.
Last Updated: May 19, 2017