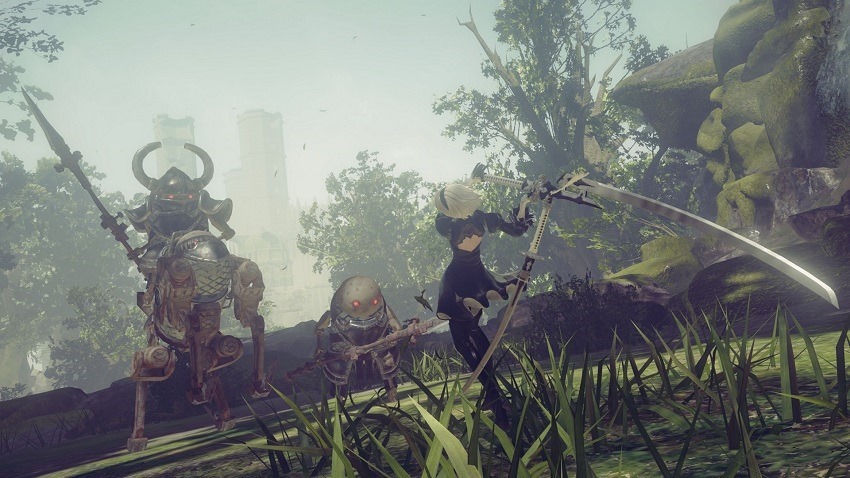 NieR: Automata is one of this year's best games, in part thanks to its strange but poignant story and expert combat from Platinum Games. It's a project that perhaps even creator Yoko Taro thought would never happen, but Square Enix stepped up to the plate on what was essentially a big risk. The first game didn't perform well at all, but that fate hasn't befallen its sequel. Automata continues to sell strong, and Square Enix now recognise its potential as an ongoing franchise.
In fact, those exact words were uttered (more or less) in the company's annual earnings report, which lauded NieR's over 2 million sales since its launch in Japan in February this year. Square Enix sales its sales potential is up there with past heavy hitters such as Tomb Raider and Deus Ex, and wants to explore the series more with subsequent sequels.
"In addition, Nier: Automata, which we released in February 2017, has proven a global hit far in excess of our expectations. It has not only reminded the world of the high quality of Japanese games, but also demonstrated significant potential for future franchise development."
Part of Square Enix's happiness with NieR is its strong showing on the digital front. More than 30% of Western sales of the game have been digital, while more that 20% in Japan are the same. Digital purchases are more profitable in the long run, so the big uptake only improves NieR's image in the eyes of its publisher.
And it's been a pretty great year for them. Late last year Square Enix launched Final Fantasy XV, which is still getting some additional content in the coming months. The company also have some Marvel games in the pipeline for the distant future, as well as brand new exclusives in Project Octopath for Nintendo Switch and Left Alive for PS4 and PC. With a new NieR supposedly already in planning, their portfolio is only expanding.
So yeah, you should pick up NieR: Automata if you haven't already.
Last Updated: September 22, 2017