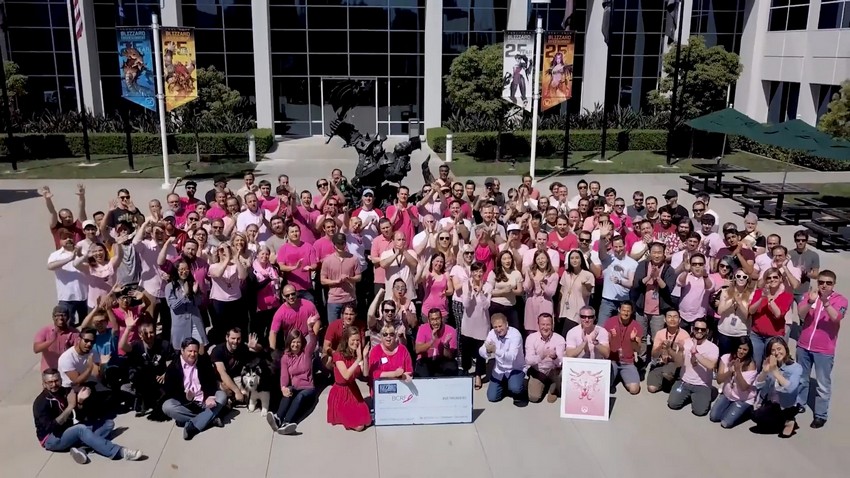 Back in May, we reported on the amazing success of Overwatch's Pink Mercy campaign, which saw the proceeds from sales for the special titular character skin going fully to the Breast Cancer Research Foundation. At the time, developer Blizzard revealed that they were nearing their goal of $10 million with just a few days to go before their deadline.
That was an already staggering amount and a show of unprecedented goodwill from a gaming community that totally belied the toxic reputation they had earned. The goodwill didn't stop there though. In a new video released simply titled "Thank you, heroes", Blizzard has unveiled the final amount of the cheque they handed over to the BCRF: a whopping $12.7 million dollars.
This amount equals the largest donation from a corporate partner in a single year in the BCRF's history, which is just incredible. Besides for the Pink Mercy skin, which sold at $15, Blizzard also made available a limited edition, community artist-designed t-shirt at $30, with the sales of this probably helping to drive this total as high as it did. Along with Blizzard's efforts, over $130 000 was also raised by 14 Overwatch streamers on Twitch and donated to the BCRF.
This has truly been an overwhelming response from a community that had often not been seen in the best light thanks to the derogatory actions of members of its player base – both everyday gamers and professionals in the Overwatch League. Blizzard most recently introduced gameplay changes that rewards players for good behaviour which has led to a remarkable increase in positivity and teamwork. Even if half the time the niceness is a pretence just so that players can get rewards, it still means they're not being toxic and that's all that counts. Fake it till you make it, as the saying goes. And in this charity drive, they definitely made it.
Last Updated: July 17, 2018