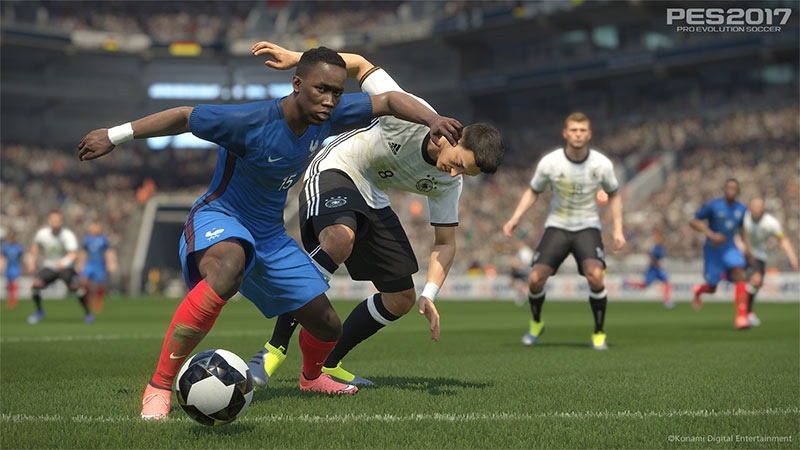 The battle between Pro Evolution Soccer and FIFA is really heating up. Yes, this happens every year, as Konami tries to focus on making their game feel great, while FIFA's moving to an entirely new engine. Now powered by the same tech behind Battlefield, this year's FIFA is bound to look great – but probably make a few mistakes in its transition.
FIFA 17's official demo is likely to become available in early September, with perhaps a week's earlier access for EA and Origin access members – but you'll be able to take PES 2017 for a run a little earlier. If Deus Ex isn't your thing, but digital Football is, the Pro Evolution Soccer 2017 demo is coming to new and old consoles on August 23 in the US, and August 24 in Europe. Unfortunately for PC pundits, the demo is giving that platform a skip.
The demo will feature 9 playable teams, though the teams will be based on May's player data so won't be as current as you might like. Here are the 9 teams:
Atlético Madrid
Arsenal
Barcelona
Boca Juniors
River Plate
Corinthians
Flamengo
Germany
France
Of course, there's a group of football fans who'll want to stick the demo up somebody else's Arsenal, because it doesn't feature their favourite team. One of those people is very probably Gavin. Konami recently announced that his beloved Liverpool will be fully represented in the game.
"We will get unrivalled access to work with Liverpool F.C. to ensure their players are brought to life in our products, and will also work together in future promotional partnerships as well," said Jonas Lygaard, Senior Director of Brand and Business Development at Konami Digital Entertainment B.V
It means that the infamous LFC anthem, You'll Never Win Anything You'll Never Walk Alone will be in the game as well, along with a digital recreation of Anfield. Konami says the licencing "will truly replicate the team's overall and individual playing style and those of its players.
Here's a look at the game, as Gavin puts it through its paces.
[Owner: In an unsurprising turn of events Geoff has been instantly fired… anyone want his job?]
Last Updated: August 18, 2016