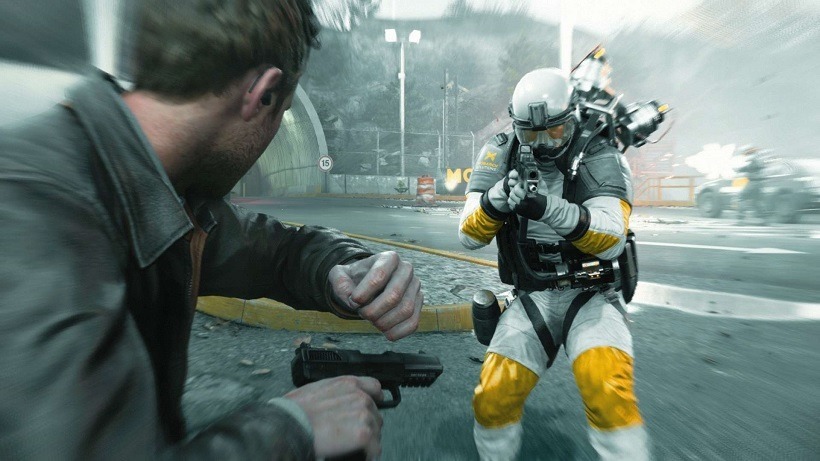 Quantum Break has already gone gold and is well on its way to launching early next month, bridging the gap between videogames and TV series in a way that hasn't really been attempted before. It was originally meant to be a lot deeper, but the closure of Xbox's Entertainment branch pressed the brakes on some of Remedy's bigger ideas. Ideas that were originally pitched as a sequel to Alan Wake, which would've feature live-action segments too.
Creative Director Sam Lake sat down with Eurogamer to talk about the possibility of a sequel for the cursed writer, and revealed that shortly after the release of the first Alan Wake work on a sequel began. Lake had an idea to integrate it with live-action content of some kind, which eventually led to the pitch that would become Quantum Break.
"Initially we went [to a Los Angeles studio] with the pitch for Alan Wake 2. That did have a live-action show as part of the pitch. We had been doing small things, and tests with live-action, and I was interested in pushing it further. And they got really excited because they were talking about having that as a big thing. They even said to us, 'Why not make it even bigger?' And we were happy to take that! And say yes, let's make it bigger!"
Early on Alan Wake 2 was said to be dabbling with a feature that would allow Alan to "rewrite the future". Looking at early ideas for Quantum Break it's easy to see how that idea permeated through different games. Even if the end product isn't as ambitious with the idea as previously touted.
So what does that mean for Alan Wake 2? If you recall Lake stated last year that Remedy is excited by the idea of a sequel, but that nothing was on the table just yet. That hasn't changed over the months, with Remedy committing themselves entire to Quantum Break and its release.
"As I said, as we've said, we'd love an opportunity to do more Wake. We're obviously fully focussed on Quantum Break, but we're always prototyping things on the side, bouncing around ideas."
But for now though?
"Right now, there's nothing new to say! No new news, we're just focussing on [Quantum Break]."
Such teases. Quantum Break is out for Xbox One and PC on April 8th.
Last Updated: March 8, 2016