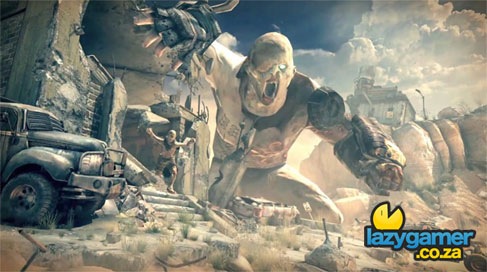 The barren, post-apocalyptic wastelands should be a familiar to anybody who's spent a significant amount of time playing Fallout 3. Borderlands, the upcoming progeny of RPG and FPS also has a similar, seemingly mad-max inspired theme. Why then, should any of us be paying attention to Rage, id software's foray into the ever expanding post-apocalypse genre?
For one thing, it runs at 60 frames per second – provided you have the requisite hardware, of course…
Secondly, it's made by id using their new Tech 5 engine- which is reason alone to take a peek. If you have a look the the most recent trailer for the game to come out of QuakeCon, you'll also notice that it looks absolutely incredible. While It seems that id still haven't managed to get realistic humans their creatures and monsters more than make up for it. While not much is known about the game so far, it's starting to look like a welcome combination of Fallout and Half Life 2, with a little Motorstorm thrown in for good measure. I've never looked so forward to the apocalypse.
Last Updated: August 14, 2009