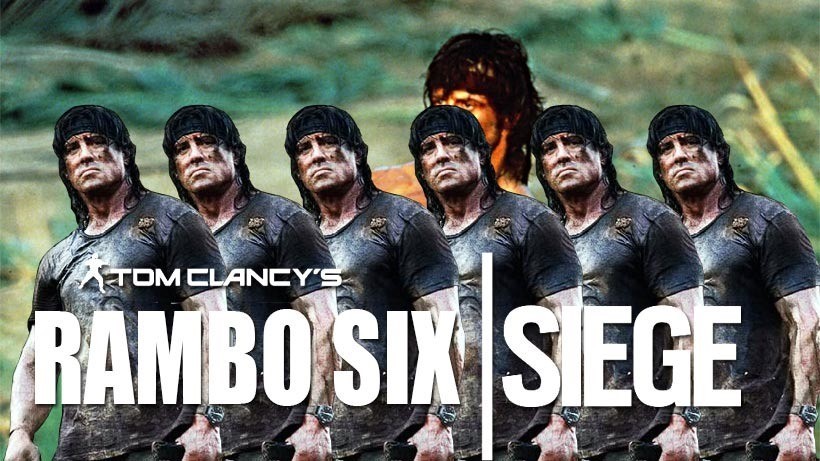 Rainbow Six: Siege isn't my kind of game. Mostly because my strategy of blocking bullets with my face and then hoping for a broken respawn location behind my opponent, won't fly in this game. You've got to use…crap hang on I know this…tumbleweed emoticon…got it! Brains! You've got to use brains to get ahead in Rainbow Six: Siege!
Ubisoft wants this game to be a long-term project, one that will be supported for months to come and shaped based on fan feedback.
"By going all-in with a focus on providing a great online multiplayer experience, we made a commitment to treating our game as a service and investing in it for the long term," Ubisoft wrote on their blog.

Our vision was not a game that you'd play through and "beat," but something you'd regularly come back to. In order to do that, we'll be actively supporting Rainbow Six Siege with gameplay balancing and tweaks (plus detailed patch notes), events and competitions, and four major content releases with no paywall on gameplay content.

A dedicated team of about 80 people will be listening to fan feedback and monitoring gameplay statistics to ensure that we're always providing the best possible experience and also creating opportunities for growth within the community and the game.

The operator system, multiplayer and Terrorist Hunt game modes were all designed to expand and meet the demands of an evolving game.
To get that vision done right, Ubisoft has a year-long game-plan. I've detailed the plan below, so grab a cup of coffee and that bagel in the fridge. It looks rather nice. You going to finish it?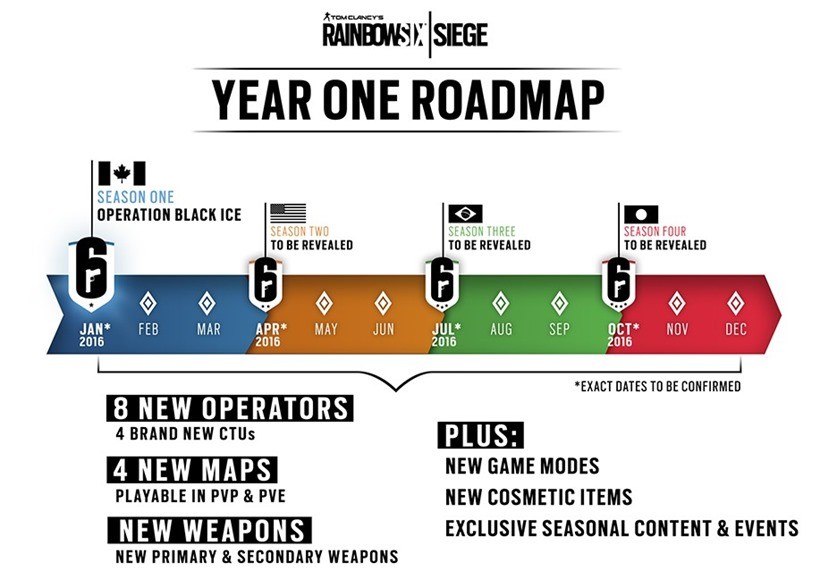 Prepare for seasonal content that works alongside the ranked gameplay:
Four new maps (playable on both online multiplayer and Terrorist Hunt)
Eight new operators, with new primary/secondary weapons and unique Gadget
New cosmetic items
New game modes, events and/or activities
If you're looking to make your operator unique, you can do so with some fancy skins and unlocks using the in-game currency of Renown that you earn from playing. Alternatively, you can purchase R6 credits to fast-track the process. According to Ubisoft, only cosmetic content will be sold for actual bucks: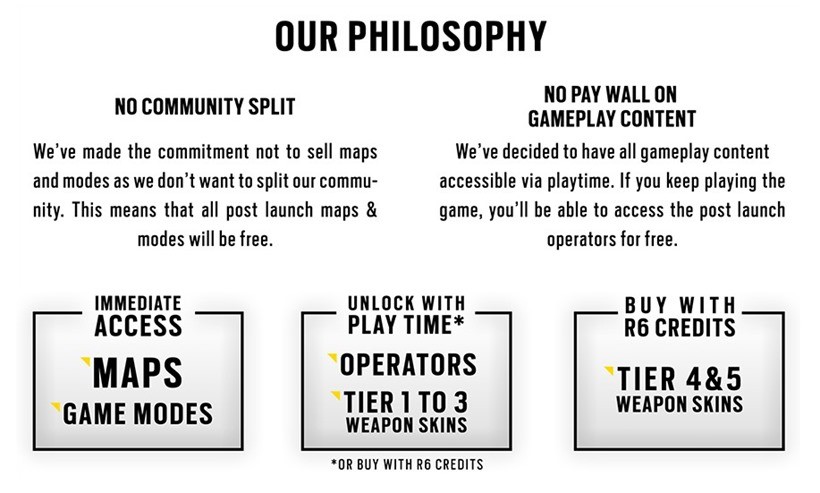 Renown is a currency earned in-game and used to unlock new content. It will be earned through Situations and Terrorist Hunt games, or competing in Online Multiplayer matches. It can be used to unlock operators, weapons and weapon skins and post-launch gameplay content.
There will be five different tiers of skins available initially for purchase and more added post-launch, with Tier 1, 2 and 3 unlockable with Renown and Tier 4 and 5 skins requiring R6 Credits to purchase. Some Tier 3 skins can be unlocked with Renown or R6 Credits.
R6 Credits are currency which can be purchased through the platform holder and used to quickly unlock wanted items. They can also be used to buy boosters for Renown, unlock operators and premium weapons skins all without spending Renown. There will be 5 packages available at launch: 600, 1200, 2670, 4920, 7560 R6 Credits.
Each new post-launch operator can be unlocked by playing approximately 25 hours (or 25,000 Renown). It should only "take between two to three weeks maximum" to unlock an operator and three months between each Season of content, allowing for enough Renown to be saved up.
Each operator can also be automatically accessed by spending 600 R6 Credits ($4.99 USD). The initial 20 operators at launch will be unlocked much quicker in the base progression system (500 Renown for first operator in a CTU, 1000 for the second, etc).
There will be five different tiers of weapon skins available for purchase with Tier 1, 2 and 3 unlockable with Renown and Tier 4 and 5 skins requiring R6 Credits to purchase. Some Tier 3 skins can be unlocked with Renown or R6 Credits.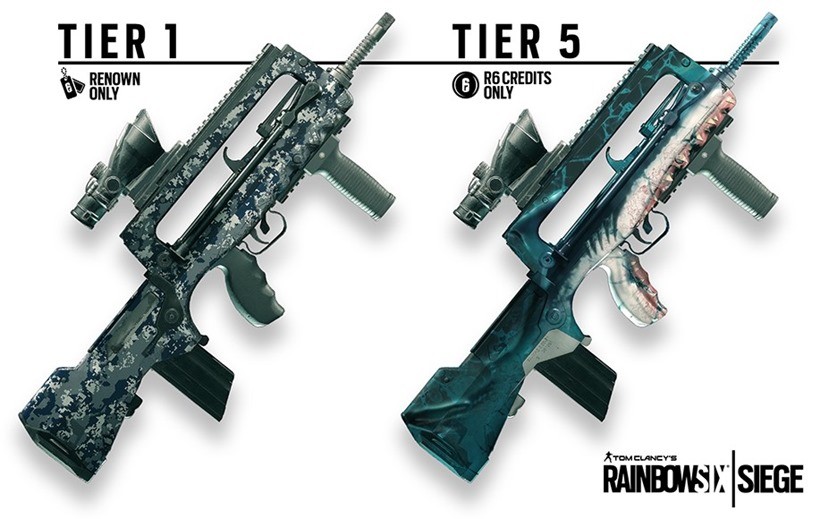 The first content drop, Black Ice, arrives in January 2016. Here's what's inside:
One new map
Two new operators from a new CTU, with new weapons and unique gadgets
A handful of new weapon skins in all tiers
Gameplay upgrades
Each season will also bring the following with it:
1 new map
2 new operators from a new CTU, with new weapons and unique gadgets
A handful of new weapon skins in all tiers
Gameplay upgrades
It's an ambitious plan, but one that will suit the kind of player who spends hours and hours stuck into one game. I know of one particular knob-head who does that actually, and that guy really needs to get a life. (Psst, it's me on Destiny. Put down the pitchforks.)
Last Updated: November 6, 2015