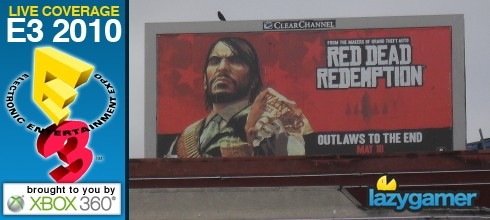 One of the most surprising things I saw when I was in LA was the amount of videogame advertising that is all over LA.
I don't just mean around the conference centre which was obviously just one huge videogame advertisement but I mean all over the rest of the city.
And easily the most marketed videogame was Red Dead Redemption which had a billboard on virtually every block of downtown LA.
We had a quick discussion about it and in my opinion it's a bit sad that Rockstar needed to spend so much money on marketing this title as it really is one of the better games of all time and it's quality should have been spread naturally though the community.
But alas in the months running up to RDR's release it became apparent that the community wasn't going to take this one under it's wing naturally and therefore Rockstar had to break out the marketing machine and spread the word that way.
It worked and RDR ended up getting the sales it deserved and I just felt I had to share my experience as it blew my mind over the first couple of days.
Also dies anyone know why that banner above says "Outlaws to the end" on it with a date of May 18 when "Outlaws to the end" is the name of the DLC that was released yesterday?
Last Updated: June 23, 2010