Listen! Assassin's Creed Odyssey is a phenomenal game. No longer just a sneaky action, it's now a full-blown RPG and it's better for it. The game is out on RIGHT NOW giving you many, many, many hours of really engaging quest-solving video gaming. Here's what we said in our review:
Assassin's Creed's gradual evolution to RPG is complete. While it remains familiar, the deeper combat, dialogue choices and consequences have upended Assassin's Creed's stealthy roots to deliver a sprawling, multi-tiered historical RPG epic. It's the culmination of the series own journey, and only fitting it be called Odyssey.
Look, video games are expensive – so to celebrate the game's impending launch we're going to give the thing away. Not just any edition though, we have the glorious Medusa edition of Odyssey to give away. Before you grumble because it's the Xbox One version, it's because that's the game's lead platform, and it is genuinely breath-taking on that newfangled Xbox One X. Here's what the Medusa Edition contains: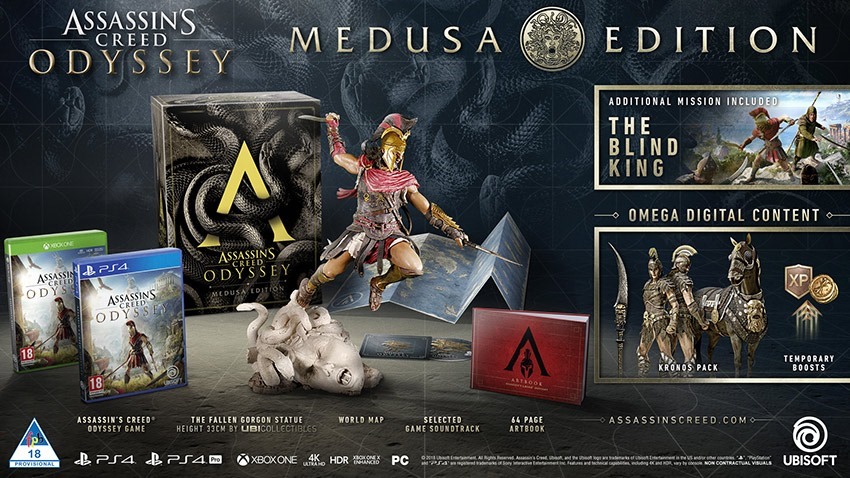 PHYSICAL CONTENT
The Fallen Gorgon statue (height: 33cm) – By Ubicollectibles.
The Assassin's Creed® Odyssey game.
A 64 page Artbook: Featuring the artworks from Ubisoft Quebec artists that led to the creation of the game.
The world map: Explore the world of Assassin's Creed® Odyssey with this hand-drawn artistic representation.
The Selected Game Soundtrack: A selection of the best music from Assassin's Creed® Odyssey.
DIGITAL CONTENT*
An additional mission: The blind King. Meet a mysterious traveller that will prove to be much more than he appears as his past is revealed.
The Kronos Pack (Including 5 epic pieces of armour, 1 epic weapon, 1 epic mount).
Time is of the essence when you put yourself at the service of Kronos.
1 Temporary XP Boost.
1 Temporary Drachmae Boost.
Yes, that's a 33cm high statue that's super rad. BUT WAIT, THERE'S MORE! We'll also give you
T-shirt
Hoodie
Metal Pin
Medallion
Want to win it? Of course you do! All you need to do is fill out this form, and it could be yours. Entrants need to live in South Africa. You're allowed one entry per unique email address. Also, if you're on a mobile device and don't see the form, change to desktop view and you'll be able to enter. Oh yes, the competition closes on 14 October, with the winner announced on 15 October 2018.
Last Updated: October 5, 2018