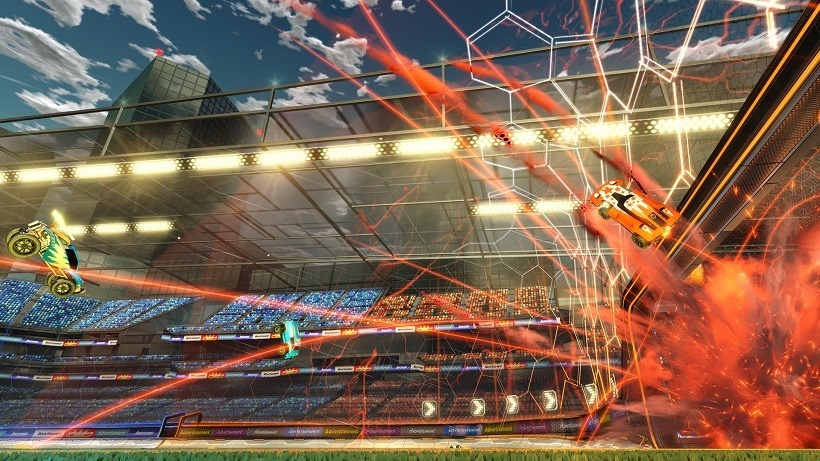 Here at Lazygamer, we're all Rocket League addicts. And by addicts, I mean Darryn, Geoff, and Zoe played it that one time, Alessandro, Kyle and I play it now and then, and Gavin plays it every time he drinks beer (spoiler: 24/7).
Fine, I may have misused the term "addict" (for everybody bar Gavin – he's definitely one on both counts of gaming and alcohol), but still, whatever our dedicated hours into the sporty racer may be, we all agree on one thing… it's a crap load of fun to play! It's honestly something that everybody should at least try at some point in their life, whether they're a fan of football, driving, both, or neither.
If you've somehow not yet played Rocket League, well, you're in luck. Psyonix, are hosting a free to play weekend for their game on Steam (via PC Gamer):
Starting today, April 21 at 10am Pacific, Rocket League is FREE TO PLAY for all users regardless if you've bought it or not. If you are one of those players who has yet to purchase Rocket League, however, then you can grab it at a discount of 40% off until 10am on April 25. The "Free Weekend" access through Steam ends on Sunday, April 24 at 1pm Pacific.
How cool? So you get to play Rocket League for the whole weekend (prepare to lose many hours to silly, rocket-powered madness), and if you like it (believe me, you'll love it), you can cough up a very affordable R131.40 to have the game added to your Steam library. Score!
For those like me who already own the game, there are some neat bonuses too. All the DLC is currently 20% off.
Hot damn, I've been holding out on getting that Batmobile DLC. I guess I'll grab it now, along with a bunch of others!
Last Updated: April 22, 2016