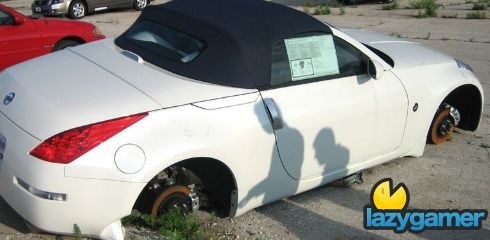 Sony has recently filed a patent for something it calls, Degradable Demo's, which at first I thought meant the demo stopped working after a certain amount of time…
But no it's way cooler than that.
The way they envisage it working is that the demo can be distributed on physical media, maybe with a magazine or a cupcake? And then you get to experience the full game for the first couple of times that you try the game.
Then it begins to degrade, so for example your weapon could become a little weaker. The number of enemies could decrease or the colours could start fading out along with that awesome background music.
Think of it this way, they release Gran Turismo 5… stop laughing it can happen… anyway so they release the game and at the same time they release a degradable demo with all Happy Meals purchased from McDonalds.
For the first 2 games you get to play all the cars and all the tracks along with everyone who bought the game, then the cars start detuning and the number of tracks start to disappear.
This gets annoying as your friends want to race around Kyalami and all you have left is Silverstone, but then you quickly tap in a few credit card numbers and walla the entire game is reactivated and you get to keep on going.
I could see how this could really work in their favour, let's just see if the patent actually gets granted without Nintendo, Valve and Microsoft having an issue with it.
Source: Siliconera
Last Updated: March 5, 2010