One of the most important weapons in the PC gamer's armoury is the mouse. Particularly important in first-person shooters where accuracy, speed and precision are key, the choice of mouse is an important one for those who want the best implements for in-game murder.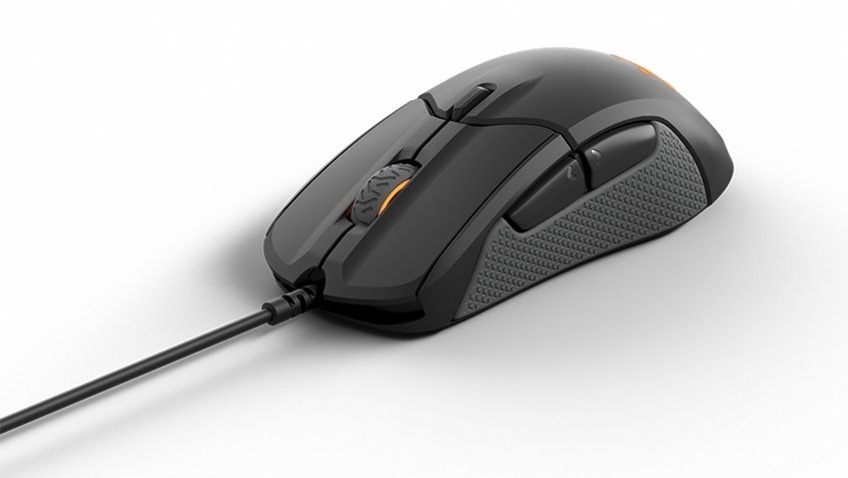 Peripheral and accessory maker Steelseries is one of the dominant names in the field, and for good reason; they make an array of devices designed specifically to suit the wants and needs of competitive gamers. Their Rival 300 is a well-regarded rodent, and it's no surprise then that there's a newer, improved 310 that takes consumer feedback into account.
It features a number of changes and additions to make it better than the mouse that came before. It won't be a hit with players who prefer weighted or hefty peripherals. That because it's incredibly lightweight, weighing just 88 grams, down from the 130 grams seen in the Rival 300. Its weight isn't a problem though, as it's ergonomic (at least if you're of the right-handed persuasion) if you have medium to large hands. The sides of the mouse are furnished with silicone grips, though I have to say that they're not as grippy as I'd like. While I had no problems with slipping, it just feels like the silicon is oily and liable to lapse. Still, it's a nice upgrade from the rubber usually used, which has a tendency of wearing down.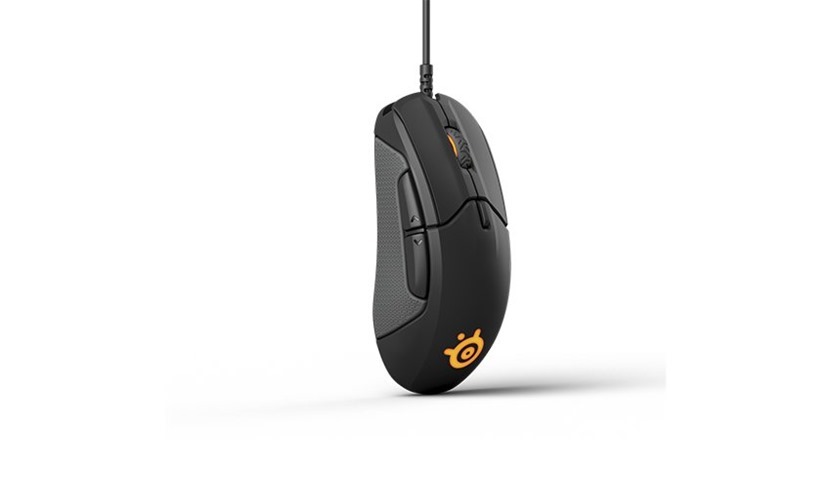 It's a simple mouse, with just 6 functional buttons. There are, of course, the two main mouse buttons, but they each have their own disparate, split-trigger buttons. Usually mouses are made with a single bit of plastic covering the main buttons, but here you've got them split, to give you faster clicks and response. They're satisfying and consistent. Beyond that there are two buttons on the side, the middle mouse button that doubles as the scroll wheel, and a button to change from between to set DPI settings on a whim. The USB cable isn't braided, but is instead reinforced on both ends with thick rubber. Two smooth rubber feet at the bottom and a plastic surface near the top ensure smooth glide on just about any surface.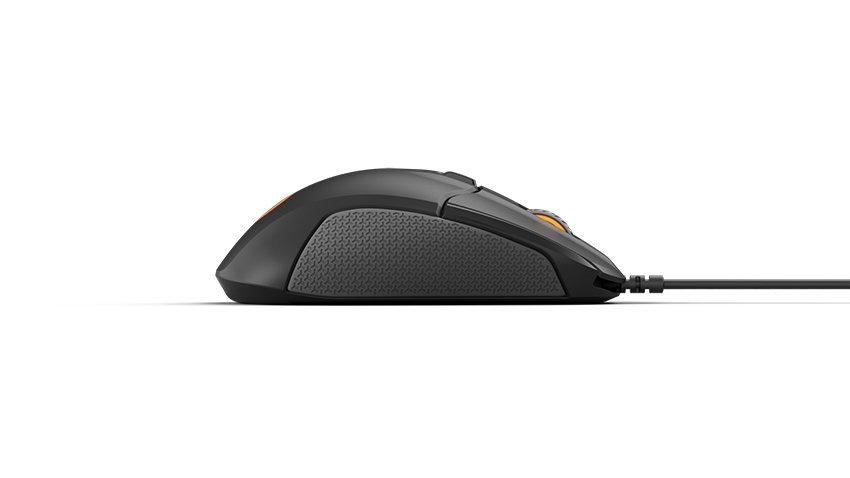 Its most important upgrade – or at least the most important one according to Steelseries, is the custom TrueMove 3 optical sensor. While it sounds super fancy, in truth it's a custom-tuned implementation of Pixart's tried-and-tested 3360 sensor. That's one of the best sensors in the business though, so the custom programming is welcome. It disables jitter-reduction in resolutions up to 3500 DPI, which means that you get 1:1 precision within that range. If sniping is your thing, this is a mouse worth looking at. There are also promises of reduced jitter from 3,500 to 12,000 DPI.
The sensor itself is placed close to the middle of the device so is nicely centered. There's also very little in the way of mouse lift, and the sensor stops tracking when the device is lifted off of a surface. By my own testing, it's about the high of two stacked CDs, which is darned good.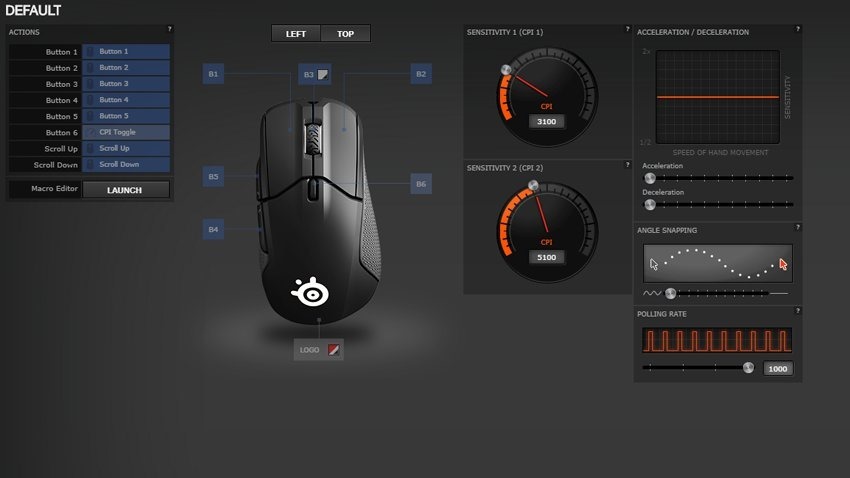 As with everything Steelseries, it pairs with the Steelseries engine software, giving users a wide array of software customisation options. In the software, you can can customise the function of each of the buttons, and also set the devices lighting modes and colour schemes. You can set the light in the scroll wheel and the one in the logo independently of each other, as well as enable effects like having colours show up on click and the like. It also works with Steelseries Prism, which means you can synchronise the lighting between your other Prism-enabled Steelseries gear, to have the same lighting on your keyboard, mouse, mousepad and even motherboard. Within the software, you can also set acceleration and polling, and set those two aforementioned DPI presets. From there you can also set software acceleration and deceleration, as well as angle snapping.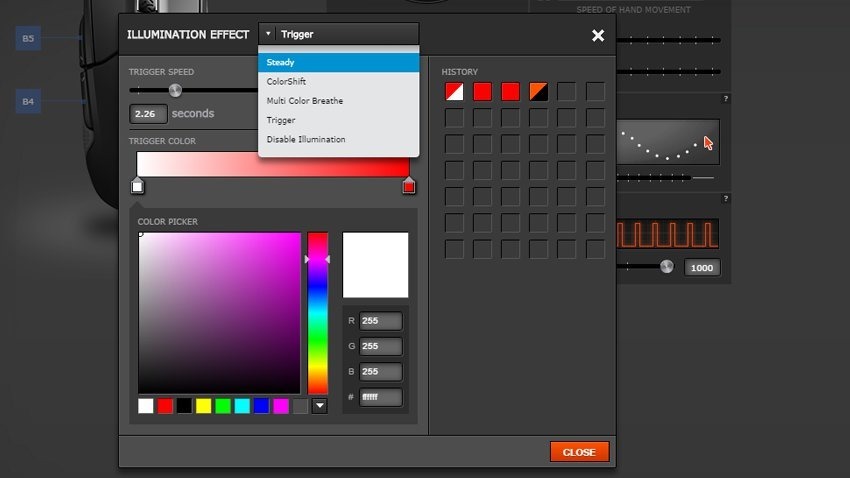 As for how well it works? I've been using the mouse for three weeks now, and I'm very happy with it. I do miss the scroll wheel tilting from my Logitech mouse (and the ability to ratchet the wheel and scroll with reckless abandon), but its an exemplary device. It works well, is accurate where it matters most, and can also be used for regular day-to-day computing without hassle. It is, however, just a little pricy for what you get. For similar money (R1299), you can get mice with similar sensors that offer a little more functionality if a little less flash. Whether you prefer the prism lighting and the low weight over something more customisable like the Logitech Proteus G502 is up to you. Either way, yopu're getting a damned good mouse.
SteelSeries Rival 310 Specifications
Sensor Name" SteelSeries TrueMove3
Sensor Type: Optical
CPI: 100-12000, 100 CPI Increments
IPS: 350+, on SteelSeries QcK surfaces
Acceleration: 50G
Polling Rate: 1ms (1000hz)
Hardware Acceleration: None (Zero Hardware Acceleration)
Design & Specifications
Top Material: Finger Print Resistant Semi-Rough Matte
Core Construction: Fiber-Reinforced Plastic
Shape: Ergonomic, Right-Handed
Grip Style: Palm or Claw
Number of Buttons: 6
Switch Type: Omron Mechanical Rated For 50 Million Clicks
Illumination: 2 RGB Zones, Independently Controlled
Weight: 88.3 grams/ 3.1147 ounces
Length: 127.6mm/5.0236 Inches
Width: 57.16mm/2.2504 Inches (front), 62.07mm/2.4437 Inches(middle), 70.1mm/2.7598 Inches (back)
Height: 41.98mm
Cable Length: 2m, 6.5ft
We would also recommend trying a honeycomb mouse. Check out our article here – https://www.criticalhit.net/gaming/honeycomb-mouse-guide-10-best-honeycomb-gaming-mice-for-sale/.
Last Updated: September 23, 2021