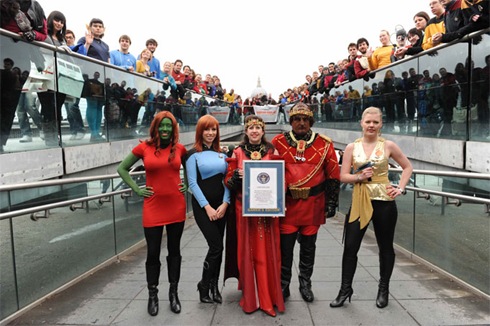 What do loveless dorks do on Valentines day? They get together dressed as their favourite characters from Star Trek, of course. They even bag themselves the world's nerdiest Guinness World Record doing so. Sad bastards.
To commemorate the release of their MMO based on the Star Trek Universe created by Gene Rodenberry, Atari scheduled the event at London's Millennium bridge, inviting fans of the series to cosplay as characters from the many shows and films.
99 costumed fans attended, making it the largest grouping of Star Trek Fans in costume, verified by the folk at Guinness. Just 99? I'm sure all that needs to happen for this record to be broken is for a Guinness official to attend your average Star Trek convention.
I'd say that it's a better way to spend a lonely Valentines day than sitting at home in solitude – but at least there I can put my kleenex to good use without getting arrested.
Source : TimesOnline
Last Updated: February 16, 2010