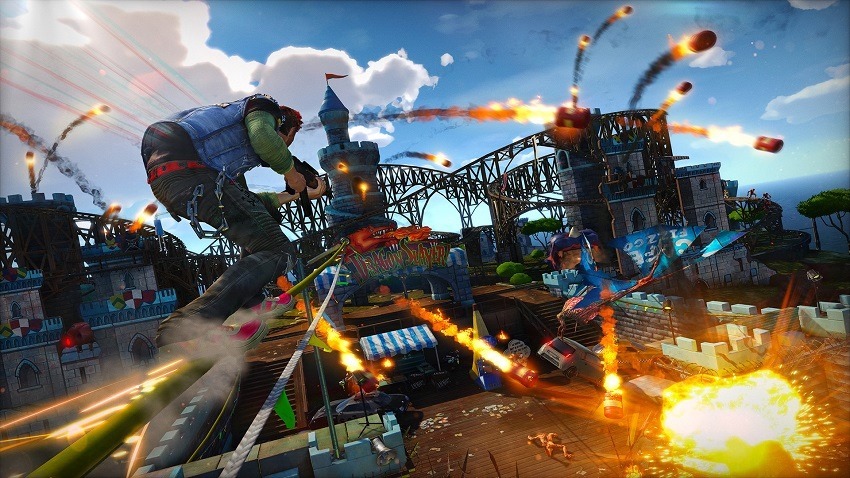 Back in May, word of Sunset Overdrive coming to PC stirred up again after a Korean Ratings Board classified the port. It made sense, given that one of the earliest Xbox One exclusives had not yet made the jump to PC as part of Microsoft's growing plans to fuse the two markets, with each of their exclusives in recent times launching on both. But since then there hasn't been any word on the port itself. It wasn't mentioned at E3 or Gamescom, and even Insomniac distanced themselves from the project. Today, however, the ESRB reignited the possibility with a rating of their own.
The ESRB have released a description for their classification of Sunset Overdrive on PC, which if accurate all but confirms that we'll be getting the port in the near future. The description itself lines up exactly with what Sunset Overdrive offers, and its timing is curious. Microsoft is hosting their first X0 event in many years this month, with X018 taking place on November 10-11. Given the rating surfacing now and the conference for the event just a week and a bit away, it seems likely that Microsoft might want to reveal the port on stage for imminent release.
And that's great, because like this news Sunset Overdrive is a great game. Its colourful presentation and ridiculously fun combat and traversal made it an early hit on Xbox One, with Insomniac using many of the lessons they learnt on the project to create Spider-Man for the PS4. It's a game that would benefit greatly from an increased frame rate on PC, given that it still hasn't received its own Xbox One X patch that could likely produce the same results on consoles.
Sunset Overdrive isn't tuned for everyone with its juvenile humour and ridiculously non-sensical story, but its gameplay is still engaging to play today. Let's hope more players will soon get the chance to try it out.
Last Updated: November 1, 2018