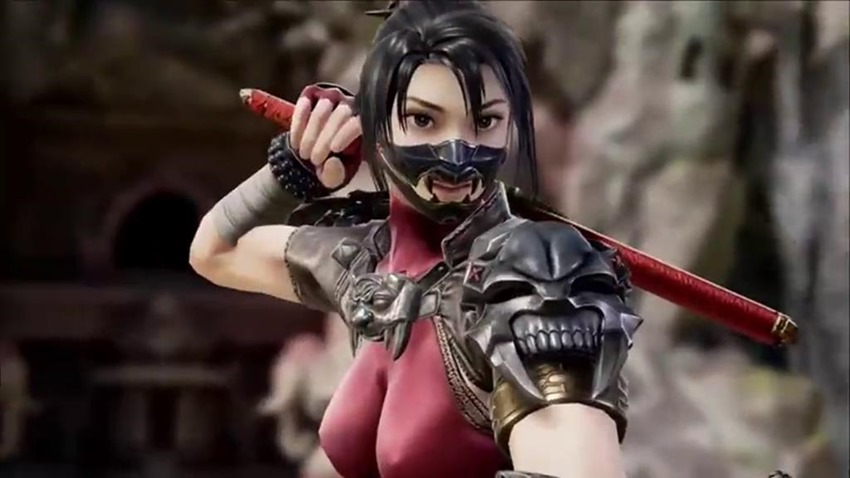 Ordinarily, I'd be the bastard who brings a bazooka to a swordfight. In Soulcalibur, that option doesn't exactly exist, so what's the up and coming Ric Flair of the SoulCalibur universe to do when some dirty tricks are needed? Go to the origin of the foul play wellspring, and grab a crafty ninja. Over the ages, Soulcalibur games have had a cunning shinobi in their ranks, who goes by the name of Taki.
A franchise OG who has been kicking around since the very first game, Taki is to Soulcalibur what Ryu's bastard Hadoukens are to Street Fighter. In case you were scared that Taki was going to sit out on the latest installment of Soulcalibur, fret not! A trailer leak from NicoNico in Japan via Japanese fighting game fanatics AvoidingThePuddle has confirmed that she'll be popping a few kunai into backsides later this year.
Weird thing: While Taki was in pretty much every Soulcalibur game and its Soul Edge predecessor, she wasn't in Soulcalibur 5 back in 2012 as Bandai Namco felt that chronologically she'd be too old to be an active ninja in that sequel's timeline. The fans were not happy, leaving many a fist to be raised into the air and shaken about with righteous fury as new character Natsu (Not that one, Craig) was raked over the coals.
Anyway, Taki is back and she's packing not only her signature twin swords but also several sneaky shinobi skills. Combine that with her speed, and I think I may just have my go-to character for Soulcalibur 6 when it arrives later this year. Sorry, Geralt.
Last Updated: May 2, 2018