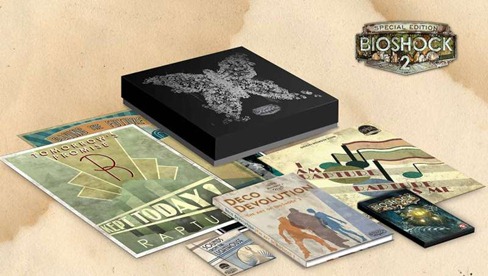 Over the past 2 weeks we have been running a Bioshock 2 competition where you stood a chance of winning the awesome Special Edition + Little Sister figurine kindly sponsored by Megarom for simply sending in the plasmid you feel should be included in the game.
We received some awesome answers and while I can't list all 343 entries here are a few of my favourites.
"Mario Plasmid – Fixes Raptures leaky plumbing."

"Would you kindly – hypnotize splicers for assistance"

"The Suicide Bomber – puts the target into a trance and turns him into a ticking time bomb that will detonate after a certain amount of time taking out anyone in their vicinity."

"Vernon Koekemoer Plasmid"
and a few specifically aimed at bribing the randomiser
"Give-Gavin-An-Endless-Supply-Of-Beer plasmid"

"Kill Edward Cullen plasmid"

"The Little Adam Zucking Young Girl Automatically Morphs Everyone into Reece Witherspoon In other words, the L.A.Z.Y.G.A.M.E.R Plasmid!!!!"
To the "You would get arrested in some oppressive countries plasmid'
"Julius Malema Portal Puncher: No matter where you are, open a portal and punch Julius in the face."

"The Jacob Zuma Shower Plasmid. Brought to you by the Office of the Presidency. Makes you feel squeaky clean even when you're dirty as scum"
But unfortunately this comp isn't about who sends in the best plasmid it was simply a random draw and all the entries were put into the randomiser and a big congratulations goes to
Brett Miller
(Who submitted 13 entries)
Please send through your courier delivery details and we will get that prize sent out ASAP.
Thanks once again to Megarom for the awesome prize and for supporting the local community.
As an interesting side note we received a ton of entries related to wanting to understand women, or get women to stop nagging or to get them to take their clothes off. Interestingly we also received some from ladies asking for their men to be more romantic… so if you are attached go pick up some flowers and she will stop nagging and take off her clothes. Simple isn't it.
Last Updated: February 22, 2010