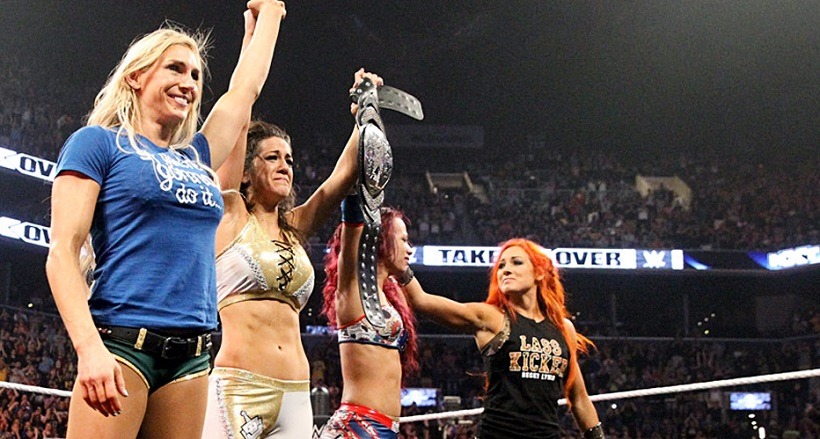 Mick Foley. Seth Rollins. Triple H. Dean Ambrose. This year, WWE 2K16 hits the ring with the biggest roster ever, one that stretches across WWE Legends and current performers. And even a few WWE Divas!
Thing is, don't expect to see too many of them pop up, a fact that applies extra to the final roster which doesn't even include the latest stable in that division, the Four Horsewomen.
That's according to 2K Games, who say that the four ladies of the "Diva's Revolution" will not appear in the game. Hell, they're not even going to pop up as DLC for WWE 2K16.
"With our final roster reveal this past Monday, it was awesome seeing the excitement for The New Day, Enzo and Cass, Mikey Whipwreck, and more," the developer said.
But it was clear that some in the community are frustrated by the lack of the newer Divas added to the main WWE roster recently.

We pushed as hard as we could to include Sasha Banks, Charlotte, Becky Lynch, and Bayley in WWE 2k16, but it simply did not work out for various reasons.

While we are not divulging full details on WWE 2K16's post-launch plans just yet, we can confirm that the Four Horsewomen will not be available as DLC.

We are proud to have and built the largest WWE roster to date featuring the most Divas ever. The WWE 2K16 disc includes all of the Divas on the main roster at the time we locked it in (13 playable in total).

We all agree the Divas Revolution is great for business and look forward to celebrating the Divas even more in future WWE 2K titles.
Inspired by the Four Horsemen (Ric Flair, Arn Anderson, Ole Anderson and Tully Blanchard) who ran wild in the 1980s and beyond, the current Divas incarnation is actually pretty damn good.
So expect it to be dissolved soon anyway, as the WWE's grasp on providing compelling fisticuffs in that division isn't anywhere near as focused as it used to be in the golden age of that industry.
Which is a damn shame, as that is one locker room where talent is going to waste. And for Socko's sake, stop calling them Divas, WWE. That's a terrible brand and title, that does very little to endear them to the youngsters who want to buy the related merch. And give them more screentime!
And more ladder matches! And a Lita DLC character! Dammit, these ladies of the ring could probably kick all kinds of ass if you'd just realise that! Besides, if we can have a playable Arnold Schwarzenegger in the latest game, then there's no excuse to not have more women wrestlers present.
Last Updated: September 21, 2015