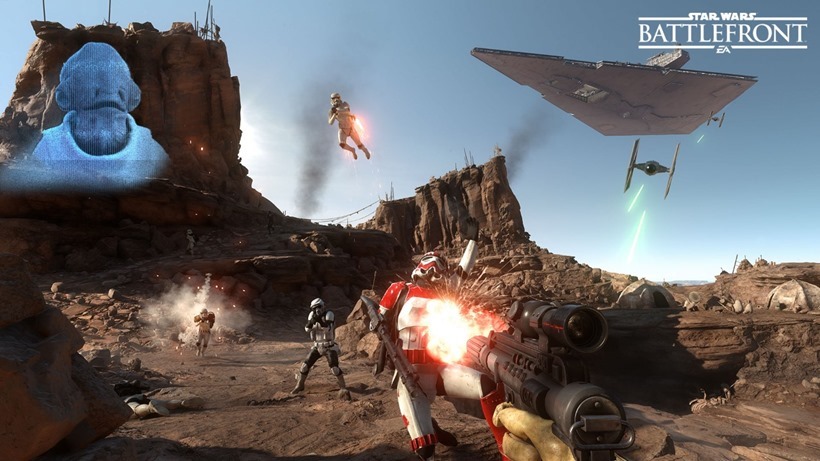 For weeks now, both EA and DICE have been letting small details about the upcoming Star Wars Battlefront beta trickle out, all while keeping an elusive launch date under wraps. It's been widely accepted that the beta will kick off in the early days of October, and EA delightfully confirmed this yesterday. The Star Wars Battlefront beta will will go live for everyone on October 8th – less than two weeks away.
EA confirmed that the beta will run from the 8th to the 12th of next month, giving you just one short weekend and a bit to experience the first real AAA Star Wars game since the publisher bagged a ton of licensing deals with Disney. The primarily multiplayer shooter will be open to all across all three platforms (Xbox One, PS4 and PC), so all you need to do is download the client when the beta goes live and you're set.
The beta is including a healthy portion of content too. The widely paraded Walker Assault on Hoth will be making an appearance (a mode I fell in love with at E3 earlier this year), along with a debut look at Drop Zone on Sollust. If multiplayer isn't your cup of tea, there will be one co-operative/solo survival mission on Tatooine – giving you a small glimpse of the only type of solo content that the game will ship with later this year.
Of course, that's just a scratch on the surface on what the game will offer when it does. Battlefront will also be including different game modes such as Speeder Bike races and Fighter Squadron – an all aerial assault mode that pits you against player controlled and AI combatants in epic X-Wing and TIE fighter dogfights. There are, sadly, still no space battles.
I'm not the biggest fan of competitive online multiplayer, but I am rather excited to give Star Wars Battlefront a longer go than a single match. There's a lot of cautious optimism surrounding it, especially given its familiar ties to the Battlefield series that DICE has nurtured for so many years. This truly open beta will give you a good idea of what the game is all about before launch on November 17th, so there's really nothing to lose (aside from a few hours).
Last Updated: September 25, 2015