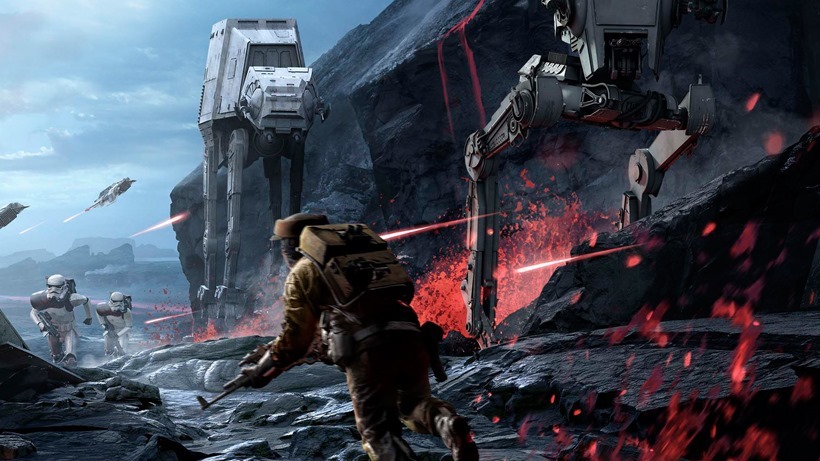 Last month, EA and DICE finally confirmed that the highly-anticipated shooter in a galaxy far far away, Star Wars Battlefront, would be getting a beta near launch. What wasn't made clear was just how interested players could opt-in, which usually entails some form of pre-order or buy-in for the early testing fun. Turns out though, there's absolutely none of that happening this time.
The Star Wars Battlefront beta will be open to everyone across all three platforms, meaning anyone on PS4, Xbox One and PC will be able to download the client and test their Stormtrooper accuracy.  In a new blog post, Battlefront Community Manager Mathew Everett conformed the good news, but sadly still didn't have a concrete beta start date to share with excited fans. He did, however, have some more information about what would be in the beta, and it's sounding rather massive.
On the competitive multiplayer only side, the Battlefront beta will feature the poster mode for the game – Walker Assault on Hoth. It's the mode that most gameplay videos have showcased, and it's the only mode I've got my hands-on in the past (which impressed me quite a bit). On top of that, the recently revealed Drop Zone mode will also swing by for a spin, taking place on Sullust – a planet where the floor is literally lava. Have that jetpack finger on the ready.
If online isn't your thing (despite Battlefront being primarily about that), the beta has you covered too. Stranded – a wave survival mode that can be played alone, in split-screen or online co-op – will also be included in the beta, taking place on a single map on Tatooine. The Fighter Squadron mode revealed at Gamescom sadly won't be making an appearance, but Everett did confirm that it is the only Battlefront mode with AI controlled bots –  to make the dogfights feel a little more alive.
There's still no date attached, but with Star Wars Battlefront hitting lightspeed as we get nearer it's late November launch, I wouldn't expect the beta to take much longer to prepare. With a seemingly comprehensive preview on offer, will you be jumping in?
Last Updated: September 17, 2015