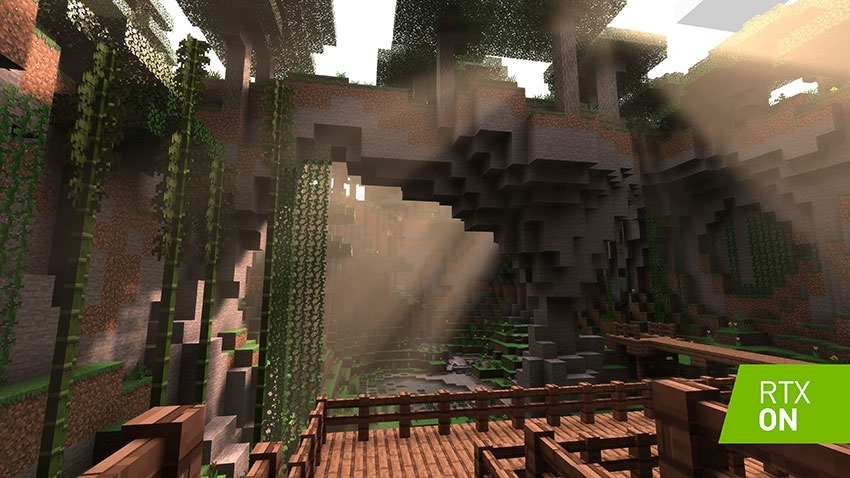 It was just last week that Mojang announced the cancellation of its Super Duper graphics pack for Minecraft. According to the developer, the pack was cancelled because it "proved too technically demanding to implement as planned." That doesn't mean that the game won't be getting a shiny upgrade in the near future. Unfortunately, that upgrade will only be available to those whose graphics cards support real-time raytracing.
Mojang has announced that the game will officially be getting RTX support. And, just like we've seen with Quake II, it's one of the more impressive showcases for the tech. Like with that game, it uses path tracing.
"Path tracing simulates the way light is transported throughout a scene. It presents a unified model for lighting calculations for many different types of effects that have traditionally been implemented separately using rasterized or hybrid renderers," Nvidia and Mojang say in a press release.
The end result is a game where the blocks looks frankly dazzling. It's genuinely impressive stuff.
"Ray tracing sits at the center of what we think is next for Minecraft," Saxs Persson, head creative director for Minecraft at Microsoft, said in a statement. "GeForce RTX gives the Minecraft world a brand-new feel to it. In normal Minecraft, a block of gold just appears yellow, but with ray tracing turned on, you really get to see the specular highlight, you get to see the reflection, you can even see a mob reflected in it."
How does this make a game filed with blocks look better?
"Lighting is upgraded to real-time global illumination, enabling light to realistically illuminate blocks and buildings as the world is modified. Emissive blocks like Glowstone and Lava can illuminate environments, along with other dynamic game elements. Water, glass and other reflective surfaces show accurate real-time reflections, mirroring their surroundings."
Indeed.
Last Updated: August 19, 2019