It's time to look back on 2016 and see just how much time was spent watching other people play games. Yes, this concept still baffles a lot of people – "how can you sit and watch other people play games?" Well, the same way you can sit and watch other people playing sports. Moving on, Twitch have released their latest retrospective and instead of being a long infographic about numbers and pie-charts, the article plays out like a mini-game in your browser. It's truly unique and memorable, so let's look at 2016 by the numbers.
Throughout your journey in the countryside you're shown some facts about 2016.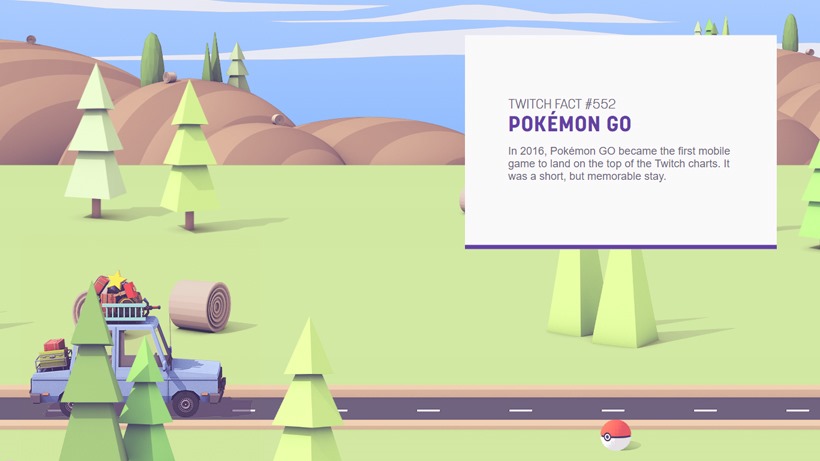 In case you don't have the time to play through facts, let me drop some figures for your convenience. In 2016 Twitch viewership was spread across 2.2 million unique streamers and viewers watched a total of 292 billion minutes. As shown in the image above, Pokemon Go had its moment in the limelight while Overwatch snuck in as the most watched new game of 2016. Counter-Strike: Global Offensive held the reins as the most watched First-Person Shooter while League of Legends held the number one spot in the MOBA genre and across most boards.
When it comes to the financials users spent at least $7.2 million on Twitch's new cheering feature, while a collection of charity streams raised roughly $25.3 million. That is a lot of money, in case you were wondering. Notable mention was for Extra Life which raised $9 million for charity.
Records have already been broken within the first two months of 2017 with Faker's League of Legends stream reaching 240,000+ viewers while Counter-Strike's ELEAGUE broke unique viewership records for a tournament hitting the 1 million mark and above. With the first month already off to a swell start, 2017 is going to be a massive year for online streaming as Twitch continues to add new features, like the Communities tab launched last week.
Last Updated: February 16, 2017