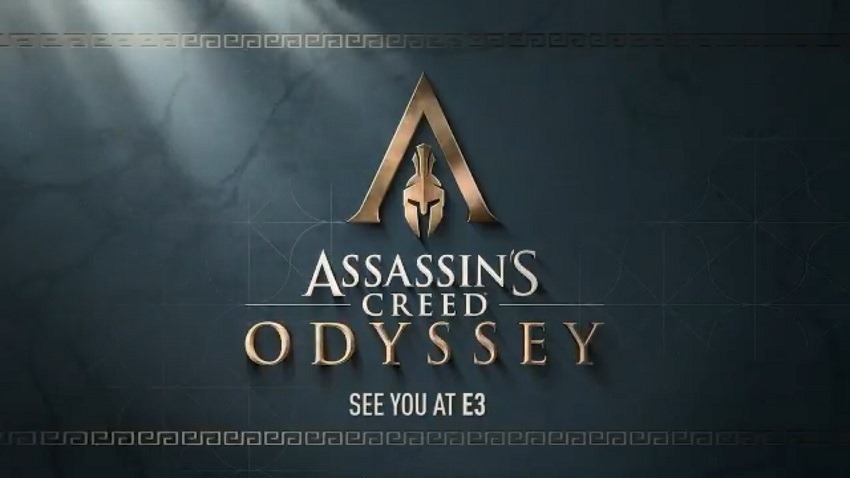 With Assassin's Creed Origins last year, Ubisoft proved that their time off with the series was well earned. Origins felt like a breath of fresh air, with enough changes to the core gameplay loop to make Assassin's Creed feel compelling again. It would be logical to assume that Ubisoft had learnt their lesson about annualising the series, but you'd also be wrong. Right before E3 Assassin's Creed Odyssey has been leaked, and Ubisoft has since confirmed it too.
Odyssey was first leaked last night via some promotional merchandise that found its way online. The keyring in question seemed to confirm the Greek setting for the game, which had been part of rumours dating back to January. Ubisoft then later tweeted out a short, short teaser confirming the title, and asking fans to wait for more from E3. And if you still had doubts about a Greek setting, tell me where you've seen this kick before.
See you at E3! pic.twitter.com/03NTPhCkCf

— Assassin's Creed (@assassinscreed) May 31, 2018
Kotaku reported on the leak last night, along with some information about the game they've been hearing from multiple sources who have played it. According to the report, Odyssey is a sequel to Origins, but won't be staring Bayek. There's word that he might appear in the story still, but that players will have the choice between two protagonists – a male and female one. While Origins was a departure from the series' roots, Odyssey will apparently push it even further into RPG territory. Dialogue options, for example, will feature for the first time, giving you the chance to role-play your assassins instead of just being an onlooker.
Assassin's Creed Odyssey is also expected to launch before the end of the current Ubisoft fiscal year, which wraps up n March 2019. With The Division 2 taking up space in March, it would be safe to assume that Odyssey is targeting a fall 2018 launch, which would put Ubisoft right back on track with their yearly releases for the series. Perhaps they've figured out how to keep iterating on the formula year on year, but we'll have to wait and see how drastic the changes are at E3. It's also worth remembering that Ubisoft has multiple teams working on games, so the extra year that Origins afforded that team, allowed this one to be in development for a year longer as well.
Last Updated: June 1, 2018