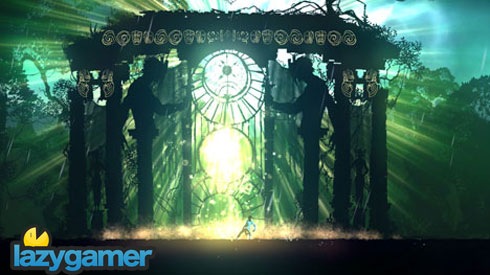 Did you play Super Stardust HD on the PSN. It's a fantastic little twin-stick shooter, essentially Geometry Wars set on an orb – and easily one of the best games available on Sony's download service (And it's been updated to be 3D, too!.) If you have played it you'll be happy to know that developers Housemarque are hard at work on a new game – that so far looks just as awesome.
A Ubisoft published XBLa and PSN game, Outland will be an action platformer that borrows a few mechanics from one of the best shoot-em-ups ever made; Treasure's Ikaruga.
It's a 2D platformer that utilises Ikaruga's core mechanic of a switchable light/dark shooting system: your character can alternate between light and dark; there are light and dark enemies and bullets. While switched to light, you won't take damage from light bullets. While dark, you won't take damage from dark bullets. To kill enemies though, you'll have to be the polar opposite to your opponent.
IGN's preview calls it a a mix between classic platformers like Prince of Persia and Out of this World – with the aforementioned Ikaruga. That's enough to place this firmly on my radar, but it's gorgeous to boot. Expect more information to come out of PAX this weekend.
Source : IGN.
Last Updated: September 3, 2010