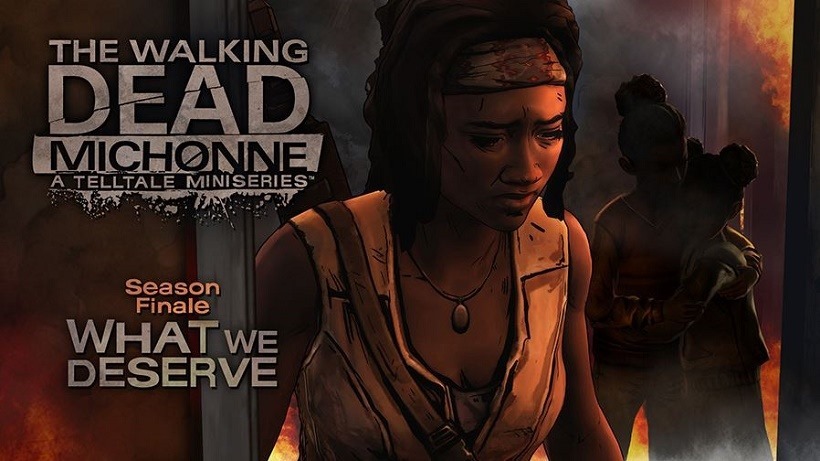 The first two episodes of The Walking Dead: Michonne were… alright. Episode 1 established the story and lead character nicely, but it did very little to truly wow me (at least in the same way seasons 1 and 2 did).
Still, 'In Too Deep' was just the opening act of the three-part miniseries – it could do nothing more than set the tale in motion. As a result, I had high hopes for its follow up, 'Give No Shelter'.
To my dismay, the second episode of the saga somehow felt worse overall. Here's what I had to say in my review…
Michonne as a character and excellent action sequences keep this second episode together, though barely. Hopefully Telltale have something much bigger and better planned for the conclusion of this miniseries.
And I stand by that. I really hope Telltale have some amazing payoff lined up!
We won't have to wait too long to find out if that's the case thankfully. The third and final bit of this trilogy, 'What We Deserve', will be out next week, on the 26th of April. Here's its synopsis, which you should avoid of course, if you've not yet played episode 2, and don't want to have anything spoiled…
In 'What We Deserve,' feeling the weight of choices both recent and long ago, Michonne tries to protect an innocent family… but Norma and the vengeful Monroe crew are closing in. As reality shatters and the ghosts of the daughters she abandoned demand to be heard, your choices will determine who lives, who dies, and what redemption really means in a world gone to hell.
Despite all my criticism, I'm dying to find out how this story plays out. I made a big decision at the end of 'Give No Shelter', and I'm eager to see if it manifests into something good, or something bad. Knowing this series, it's probably the latter.
What sorts of decisions have you made? Are you eager to see the conclusion of The Walking Dead: Michonne?
Last Updated: April 21, 2016