I have been completely sucked in to Metal Gear Solid V, trying to extract everything, sending it off to my motherbase. When I"m not sending everything away on a magic balloon, I'm inevitably sneaking about like a hairy, one-eyed, bearded ninja..right up until the point that I'm seen, and the game turns in to third person Far Cry as I try to blast my way to victory. Kojima's last Metal Gear game is incredible – and one of, if not the best game I've played all year.
And now, we're giving you the chance to win it. And not just a copy of the game (on your platform of choice provided that your platform of choice is a current-gen console) – but the Collector's Edition, which comes with an arm, and incidentally, costs one plus a leg too.
Kojima Productions ushers in a new era for the Metal Gear Solid franchise with its newest chapter — Metal Gear Solid V: The Phantom Pain — which is set nine years after the fall of Mother Base and the other events in Metal Gear Solid V: Ground Zeroes. The game resumes the storyline in 1984 against the bleak backdrop of the Cold War — and a global crisis is brewing. After lying dead to the world in a near-decade-long coma, you finally awaken as Snake, a.k.a. Big Boss, filled with the thirst for revenge.

Set off in pursuit of the shadow group, XOF, as Snake in The Phantom Pain, which features an open-world design, giving you ultimate tactical freedom in carrying out your missions and progressing through the game. Thanks to the Fox Engine, you can enjoy cutting-edge visual technology with photorealistic graphics and cinema-quality storytelling, making it feel as if you're truly part of the action. Delve into the dark nature of combat, exploring intense themes, such as the psychology of warfare and the resulting atrocities. Showcase your skills of stealth in Metal Gear Solid V: The Phantom Pain.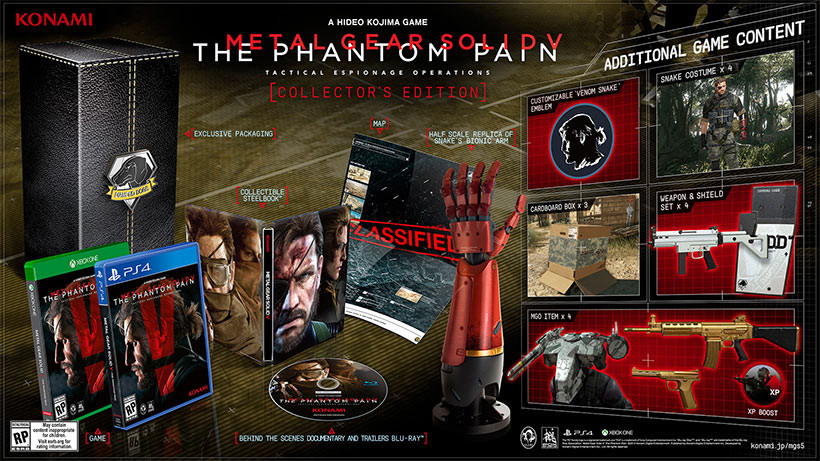 Here's what you could win:
Metal Gear Solid V: The Phantom Pain
Half-scale replica of Snake's bionic arm
Original SteelBook, map
Documentary and trailers Blu-ray Disc
Collector's Edition packaging
Weapons pack, Cardboard box pack
Snake costume pack, Venom Snake Emblem
How? Well, it's actually rather easy. Yesterday (that would be 16 September), in one of our articles, we hid a sneaky picture of Big Boss in the article header images. All you have to do is fill out the form below, and tell us which article it was in. You just need to say which game the article was about, and fill in the rest of the form accordingly.
Terms and Conditions apply, and to get an S rank on this mission you'll need to reside within South Africa's borders. We'll wrap the competition up this time next week. Good luck, and happy hunting. Remember to make that cool sound and put an exclamation mark above your head when you find him.
Last Updated: September 17, 2015